Dr. A. Brad Truax Award Ceremony & Reception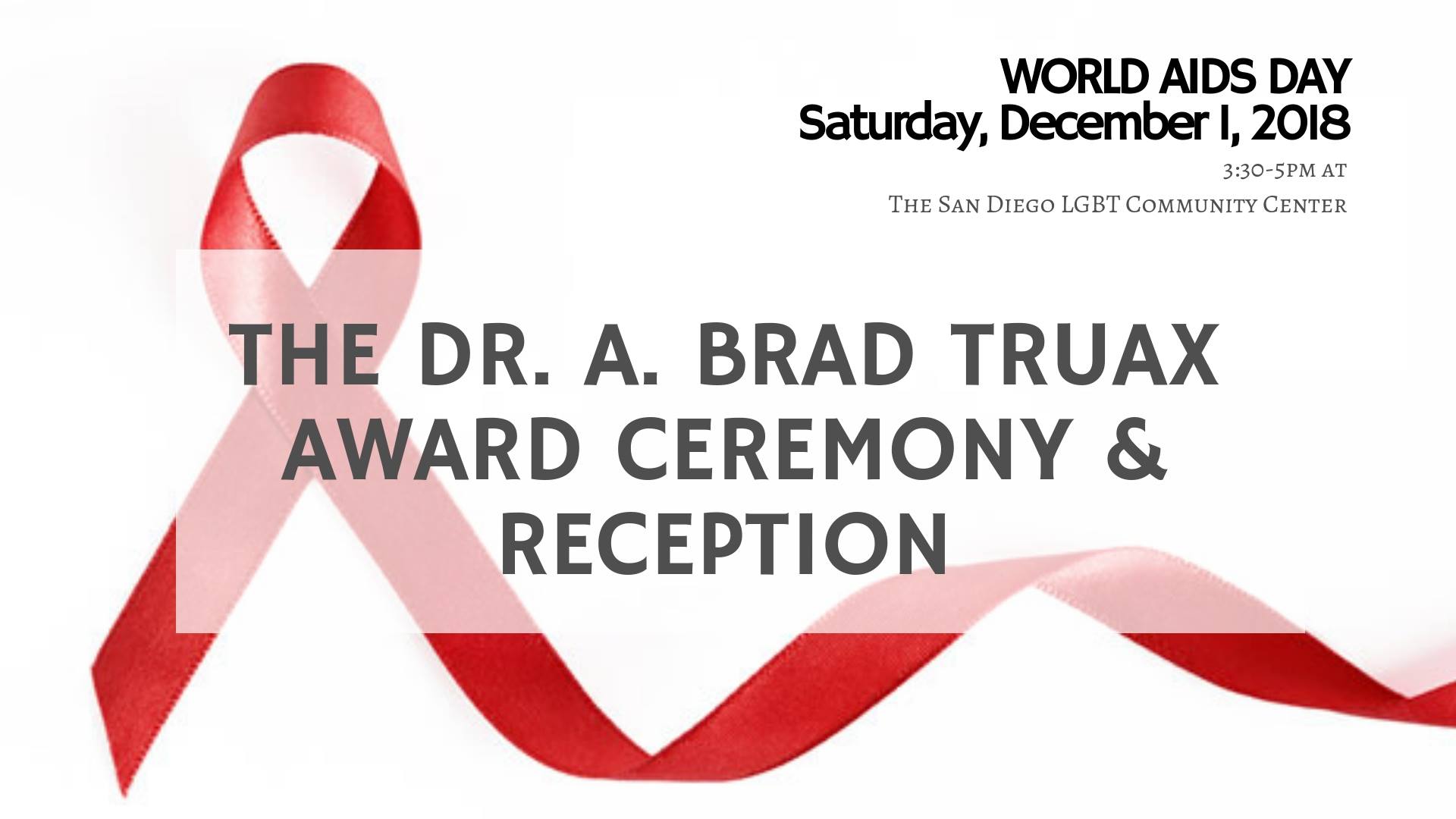 The Dr. A. Brad Truax Award was created to honor the memory of Dr. Truax and his contributions to the HIV/AIDS effort in San Diego. The award is given annually to recognize the outstanding overall contributions made by a person involved in the struggle against the HIV/AIDS epidemic in our community. Additionally, awards are given in each of the following three categories: HIV Education, Prevention and/or Counseling & Testing; HIV Care, Treatment and/or Support Services; HIV Planning, Advocacy and/or Policy Development, and each nominee is acknowledged as a Community Award Recipient.
The Awards Ceremony will include light refreshments and
displayed art. Spanish interpretation will be provided.
Followed by the 27th annual Mama's Kitchen Tree of Life Lighting Ceremony at Village Hillcrest.
____________________________________________________
El Premio Dr. A. Brad Truax fue creado a dar honor a la memoria del Dr. Truax y sus contribuciones al esfuerzo del VIH/SIDA en San Diego. El premio se da anualmente para reconocer las contribuciones excepcionales hechas por una persona implicada en la lucha contra la epidemia de VIH/SIDA en nuestra comunidad. Adicionalmente, premios son dados en cada de los tres siguientes categorías: Educación, Prevención de VIH y/o Consejería y de pruebas de VIH; Cuidado primaria, tratamiento, y/o servicios de apoyo; Planificación, Defensa, y Desarrollo de política, y cada persona postulada será conocido como recipiente de un Premio Comunitario.
El evento incluirá aperitivos y una exhibición de arte. Interpretación en español será disponible.
Acompáñenos después del evento en caminar a Village Hillcrest para la ceremonia anual 27 de la Iluminación del Árbol de la Vida de
Mama's Kitchen.