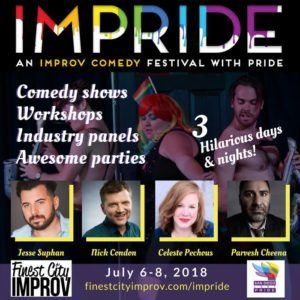 Finest City Improv is partnering with San Diego Pride to bring you our 2nd annual LGBTQ Pride Comedy Festival, benefiting Pride's LGBT youth arts program beneficiaries.
The festival features three days of LGBT related improv comedy teams, featured shows, workshops, yoga classes, parties and an all-star Lip Sync Battle Brunch. Finest City Improv, and the improv community in general, has offered a welcoming and safe environment for the LGBT community and this festival celebrates that shared pride!
All show blocks are $15 each with $10 of every ticket going directly to SD LGBT PRIDE'S Youth Arts Program beneficiaries.