1975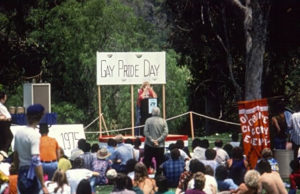 San Diego's Gay Pride celebration took a giant leap forward in 1975 with an event that included a 400-person march and a rally at Balboa Park. A parade permit was secured from the police department and the park and recreation department issued a permit for the rally at Sixth and Juniper. Both permits were secured with the help of local attorneys working on behalf of the Center, which organized the event.
Although the permits were only secured after much foot dragging by the city, not all members of the city government were ill-disposed toward Pride. One notable exception was Councilwoman Maureen O'Connor, who sent a telegram of support to the Center. It read: Good luck, hope the day will bring good friends, good weather, and a successful march. Years later, O'Connor would become the first mayor to march in the parade.
The March
The march started at Newtown Park (Hobo Park) and proceeded up India Street to C Street, to Fifth Street, to Juniper, and east on Juniper to the site of the rally. The march was 400 people strong and featured contingents from local and regional organizations. Lesbian activist Barbara Gittings was the Grand Marshall, and other honorees included Morris Kight, George Raya, and Minnesota State Senator Allan Spear.
Marchers carried signs representing a variety of contingents including MCC, Orange County, The Center and others. The march also included a large contingent from the Socialist Worker's Party, marking the first of many years of contention between that organization and many people within the community. The march also featured many individuals, not part of any particular contingent, carrying homemade signs.
The Rally
The march ended at Balboa Park, where a small stage had been erected and guest speakers covered various issues facing the community at the time. Honored guests Barbra Gittings, Allan Spear, Morris Kight, and George Raya were joined by local speakers, including Nicole Murray and Reverend David Farrell.
The march and rally were covered by both gay and mainstream media. The Pacific Coast Times included articles and columns about the event. The San Diego Union covered the event, remarking on the 400 people who marched. The event also attracted the attention of television and radio outlets with reporters from local stations covering the march and rally.