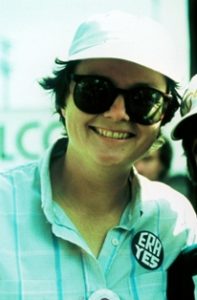 It's impossible to say enough about the impact that Christine Kehoe has had on the history of San Diego Pride. Before she was a member of the California State Senate or Assembly, and even before she was a San Diego City Councilwoman, Christine Kehoe was responsible for rescuing Pride on more than one occasion. Furthermore, in 1989, she was instrumental in setting Pride on the path of stability and success.
In 1986, Kehoe was the editor of a now defunct weekly newspaper, The Gayzette. In that role, she ran a story about Lambda Pride's plans for that year's events. Weeks before Pride, she was told by members of Lambda Pride's Board of Directors that the festival that year was going to be "gargantuan." She wrote a story about Pride's big plans and even used that word in the front page headline.
The day after that issue hit the street, Lambda Pride announced that there wasn't going to be a gargantuan festival, in fact there wasn't going to be a festival at all. Lambda Pride was almost broke, and they didn't have the funds to put on a festival, particularly in light of new regulations that required $1 million in liability-insurance coverage. This news was met with anger and disbelief from the community at large that looked forward to the annual festival.
Along with Bravo editor Tony Zampella, Update editor Pat Burke, and West Coast Production Company owner Chris Shaw, Kehoe spearheaded an ad-hoc effort to make the festival a reality. The community papers announced a town hall meeting would take place at The Flame to discuss what the community wanted to do. At the meeting it was agreed that with a lot of hard work a festival could be organized in the short time that was left before Pride. David Manley, a former Lambda Pride Board Member who had been in charge of past festivals, was nominated to spearhead the effort. Within days, David had outlined a plan to make the WCPC parking lot, and adjacent parking lots, ready for the festival. Kehoe and the other editors helped put the word out in the community for volunteers to show up on Saturday morning ready to work. More than that, she showed up herself.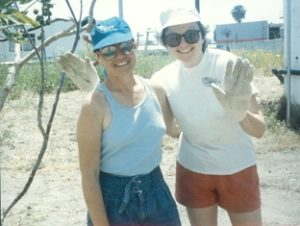 Not afraid of getting her hands dirty, Kehoe pitched in to make a miracle happen. She helped move wood pallets, pulled weeds, took down chain link fences, and hauled trash. She even helped sweep dirt and shovel gravel in order to get the grounds ready for the event.
In the end, the festival was a huge success and proof that the right people, with the right plans, could make Pride work. It was a lesson that would have to be learned more than once before it would stick though. A new group of people took over the management of Lambda Pride the following year, but then disbanded the organization. Then, in 1988, Parade Fest would form to put on the event, only to end up $40,000 in debt and disband.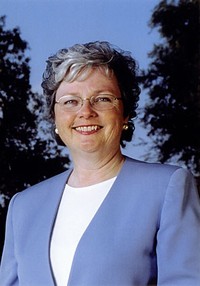 Finally, in 1989, after years of Pride turmoil, Christine Kehoe helped form the 15/20 committee. The committee put together a realistic budget, then put in place strict spending controls and followed acceptable accounting practices. It also hired an Executive Director, one who had event planning experience and knew how to make things happen and how to stick to a budget.
It was a huge success and the organization ended up with a $20,000 surplus. It was decided to make the committee a permanent organization and, together with Scott Fulkerson, Christine Kehoe was the first Co-Chair of the committee. Together with the other members of the committee, Kehoe took Pride to a new level and laid the foundation for the organization we have today.