All-Star – Dan Mock
2016 Stonewall Athlete Awards
The Stonewall Athletic Awards support, honor and enhance the San Diego LGBT athletic community by promoting inclusive and healthy competition and activities. Each year, San Diego Pride accepts nominations from the community to recognize individuals and groups in their respective categories.
For a full list of our awardees, please click here.
Stonewall Athlete Award – All-Star
2016 Recipient – Dan Mock
This award is given to a player who most exemplifies the ideals of sportsmanship with ethical behavior, fair play, and integrity across multiple sports and athletic competition in the San Diego region.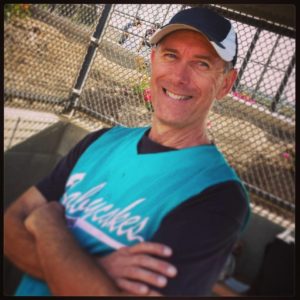 Dan Mock is an amazing athlete and the quintessential sportsman. Dan has played softball in the AFCSL for over 30 years and has also played volleyball and tennis and was a gymnast at Clairemont High School. Dan is a member of SAGA and hosts an annual pool party for the gay ski club. Dan also worked at the Diversionary Theatre and the Old Globe Theatre. He has also given back to our community for many years as a high school CIF volleyball referee. In softball he has helped his teams win several division championships and gone to the softball world series. Win or lose, he always has a very positive attitude and is a joy to have on your team.
Currently Dan plays softball on Team Babycakes coached by George Biagi whose leadership has helped Babycakes improve from last place just a few years ago to become a top contender for the championship and the right to compete in the Gay World Series.
Dan Mock joined Hudson Taylor, Kevin Beiser and Susan Guinn last year when the Padres became the first professional sports organization to take the "Athlete Ally Pledge" to support LGBT athletes.
Dan Mock and his husband, Kevin Beiser, have been together for 11 years. Kevin Beiser is a Trustee on the San Diego Unified School Board. Dan has been involved in fighting for LGBT rights for decades, marching for equal rights, being involved in various campaigns and supporting LGBT candidates for elective office, such as Christine Kehoe, Toni Atkins, Todd Gloria, Chris Ward, Dave Roberts and, of course, his husband, Kevin Beiser.