SDPIX presents Hillcrest Mardi Gras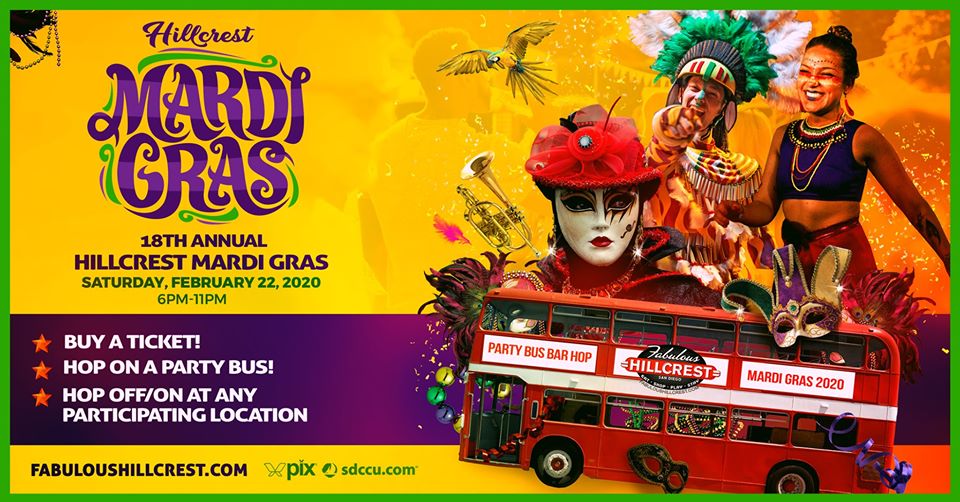 This event is Hosted by SDPix
Mardi Gras is coming to fabulous Hillcrest and this year it's going to be as exciting as ever!
Also known as "Fat Tuesday," this festive party is recognized around the world.
This year Hillcrest Mardi Gras celebrates its 18th anniversary and takes place on Saturday, February 22.
Hillcrest is the best place in San Diego for this colorful evening of all-out fun and exciting social cosplay.
Infusing the vibrancy of the French Quarter this is an energetic neighborhood-wide party that also includes a lively party bus crawl.
So break out your masks, clutch your beads, and get into your most daring and creative Mardi Gras costumes while you enjoy this unique party crawl through Hillcrest's best bars, clubs, and music venues.
The party bus route encompasses all of Hillcrest, with participating businesses located from Park Blvd. through 3rd Ave.
Each bus will feature drag queens, music, entertainment, and special guests with the sole goal of entertaining revelers in the most decadent and flamboyant way possible!
Attendees must be 21 years or older and have a valid photo ID to enter. Will call will be located at the Hillcrest Pride Flag.
Mardi Gras in Hillcrest and The Party Bus Party Crawl is on Saturday, February 22, from 6 pm to 11:00 pm.