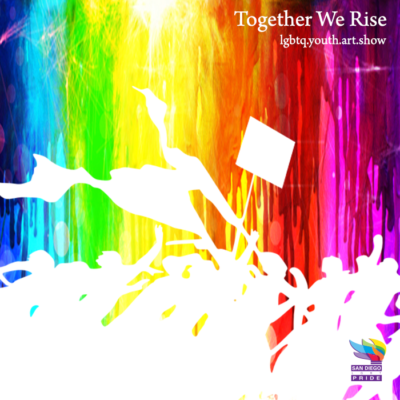 Art of Pride: Youth Art Show
Calling all LGBTQ+ artists who are junior high through high school age! San Diego Pride and Art of Pride are partnering to create a platform to showcase young local LGBTQ artists.
If the LGBTQ+ movement is to progress, we must empower our generation and generations to come to envision and realize their own future by providing them the space and tools to live a life of safe and liberated self-determination. The Pride Youth Art Show provides our LGBTQ+ youth an opportunity to use art as activism, offering a creative outlet to showcase their talents and their visions for themselves, our community, and our movements.
Pride's 2020 theme is "Together We Rise," calling on us as LGBTQ+ youth to engage in collaborative social justice. It is an acknowledgment that as many seek to divide us, we will work to shed light on the issues impacting our movement and communities, through an intersectional lens.
We are inviting all youth to submit their personal interpretation of that message.
Prompts:
What does "Together We Rise" mean to you?
What does an intersectional LGBTQ movement look like to you?
How do you believe we should act now to engage in that work to and lead to the future you envision?
What role do you want to play in bringing about that future vision?
If you or anyone you know is an LGBTQ+ artist currently enrolled in junior high through high school, please fill out the form below to be included in the art show.
Learn more or register to be part of this event here:
www.sdpride.org/yas
Art submissions must be hangable and no more than 4 pieces may be submitted by any one artist. Deadline to submit art is March 3. For more information, please email [email protected]