LGBT Q&A with Senate President pro Tempore Toni G. Atkins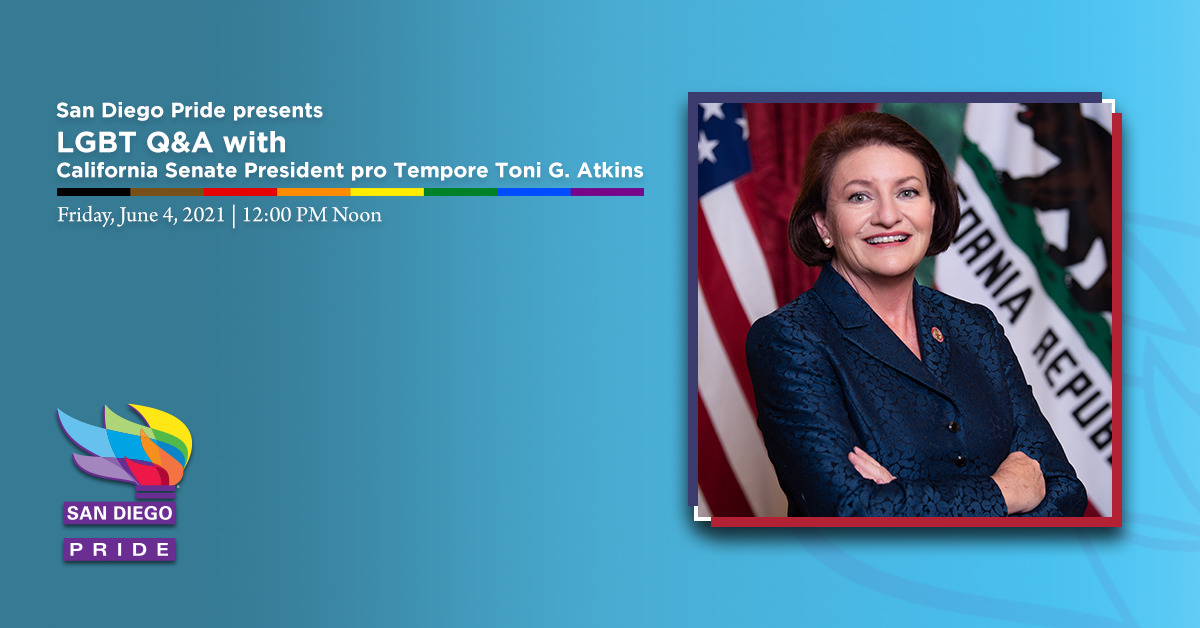 Tune in on Friday, June 4, 2021 as California Senate President pro Tempore Toni G. Atkins joins San Diego Pride for a live Q&A.
Senate President pro Tempore Toni G. Atkins represents the 39th Senate District, which includes San Diego, Coronado, Del Mar, and Solana Beach, and parts of unincorporated Rancho Santa Fe. Atkins holds many firsts including the first lesbian to be the Speaker of Assembly in 2014 and the first woman and first openly LGBTQ person to lead the Legislature's upper house as Senate President pro Tempore.
Atkins has authored landmark legislation promoting equality for transgender Californians by ensuring they can have their true gender identification listed on driver's licenses, birth certificates, and death certificates. She has also led the charge to expand HIV/AIDS treatment and prevention services, and secured funding for housing homeless LGBTQ youth.
Atkins lives in the South Park community of San Diego with her spouse, Jennifer, and their dogs, Joey and Mia.
RSVP to receive updates and watch link here 
Follow Senate President Toni G. Atkins
Learn more about San Diego Pride livestream events here: www.sdpride.org/live
Help support San Diego Pride's mission of: Fostering pride, equality, and respect for all lesbian, gay, bisexual, and transgender communities locally, nationally, and globally, donate here:
www.sdpride.org/donate
ACCESSIBILITY:
American Sign Language interpretation, English transcription, and visual content description services can be arranged for this virtual event with advance notice. We will provide ASL interpretation and English transcription through an online portal. Access to these services requires a computer and internet connection. To make an access needs request or to request the login information for the ASL-accessible meeting, please email [email protected] at least two days prior to the event.