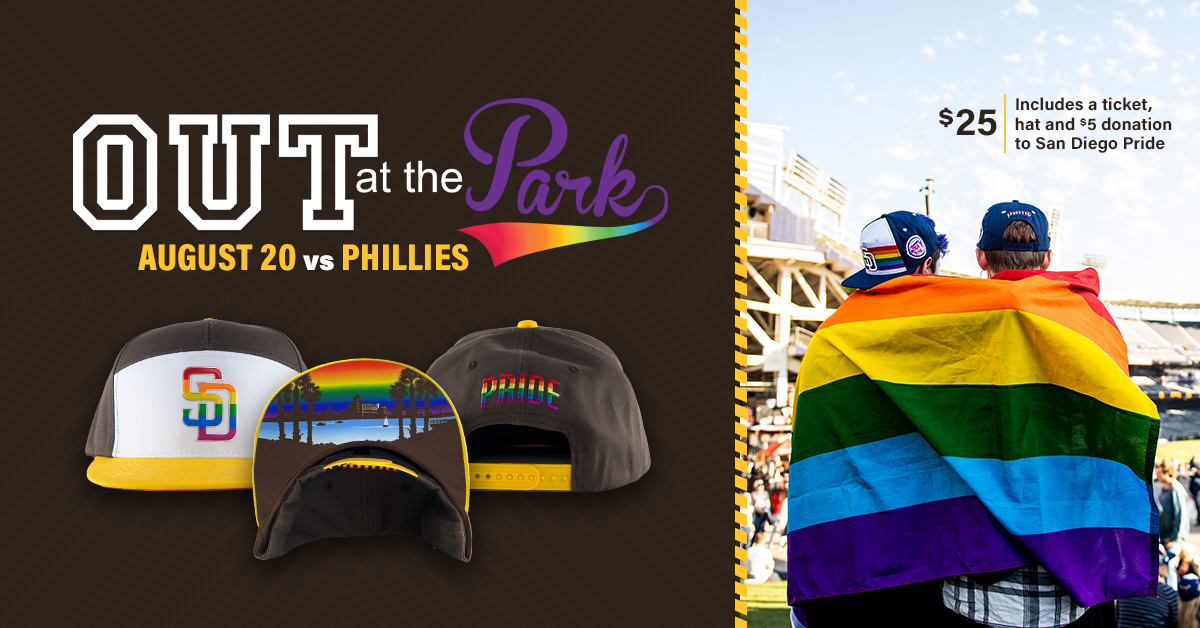 Join San Diego Pride as we team up with the Padres for Out at the Park on Friday, August 20 at Petco Park. Grab your friends, family and rainbows gear and enjoy an exciting evening of entertainment and baseball when the Padres take on the Phillies!
Arrive early and enjoy our pre-game "Tailgate Party" happy hour event in our VIP space from 5 PM – 7 PM in Gallagher Square – in conjunction with CocktailFest presented by Southwest Airlines.
Your Out at the Park ticket purchase includes a seat in our Out at the Park section, a commemorative Out at the Park Padres hat, $5 donation to San Diego Pride and access to the pre-game VIP space. (food and drinks not included)
Accessibility:
American Sign Language interpretation services have been confirmed for this event. We will provide reserved seating for those who use ASL interpreters and those with accessibility needs in the first row. The venue is accessible to all mobility devices. All-gender, mobility-device-accessible restrooms are available at the venue.
For any other accommodation needs, please email
[email protected]
one week before the event.
COVID-19 Information
San Diego Pride is excited to provide a variety of options this year as we invite participants to celebrate Pride season in ways that feel comfortable, healthy, and safe. We ask each individual to review the guidelines and setting for each event in order to assess their own comfortability with attendance.
Out of respect for body autonomy and an understanding of the reasons folks may not be vaccinated, San Diego Pride is not requiring vaccination in order to participate in our events. If you have been vaccinated, we ask that you please verify your vaccination with us, and if you are not vaccinated we ask that you wear a mask during your participation.
The State of California strongly recommends that you be fully vaccinated, obtain a negative COVID-19 test prior to attending the event, or wear a face covering. Please understand that populations that may not currently be eligible for vaccination, or may be immunocompromised and whose vaccine protection may be incomplete are at increased risk of contracting COVID-19 when attending large crowded events.
We encourage everyone to sign up for CA Notify as an added layer of protection for themselves and the community to receive alerts when you have been in close contact with someone who tests positive for COVID-19. Sign up here: 
canotify.ca.gov
Masks will be made available at the event.
This event is outdoors.
NOTICE: According to the Center for Disease Control and Prevention an inherent risk of exposure to COVID-19 exists in any public place where people are present. COVID-19 is an extremely contagious disease that can lead to severe illness and death. Senior citizens and guests with underlying medical conditions are especially vulnerable. By visiting Petco Park, you voluntarily assume all risks related to exposure to COVID-19. By visiting Petco Park, you are acknowledging that you are, on behalf of yourself or any invitees, voluntarily assuming all risks related to exposure to COVID-19 or any other disease.