Day of Decision 2021 Virtual Rally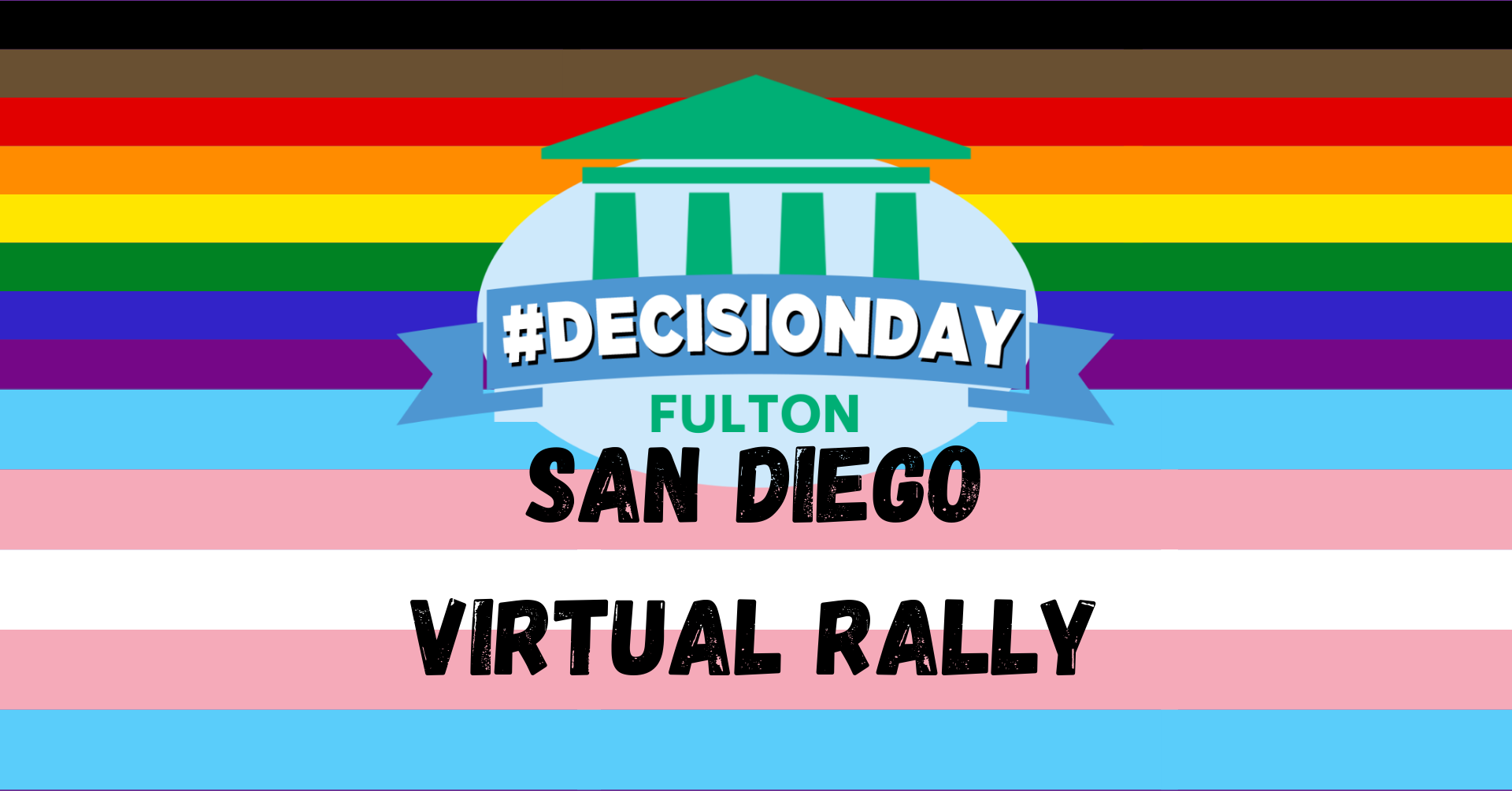 Anytime between now and the end of June, the LGBTQ+ community will receive a decision from the Supreme Court of the United States that determines whether a private group that receives taxpayer funds may discriminate against LGBTQ+ people – or Jewish folks, Muslim folks, etc – simply by claiming that providing taxpayer-funded services is against their religious beliefs.
Freedom of religion is a vital constitutional right — but freedom of religion does not mean freedom to discriminate. Soon, the Supreme Court will decide whether to affirm or deny the rights and equality of LGBTQ+ people in the United States.
Join us for a live San Diego Virtual Rally on the day *after* the day of decision with community leaders from around San Diego County.
Let's come together, lift each other up during difficult times, and give thanks to those who fought this case for our community.
Our rally will include LGBTQ+ community members and legal experts, who will discuss the decision's potential effects and what our community can do to respond and fight for full LGBTQ+ protections — including the federal Equality Act.
No matter what the decision, we know the fight continues!
ACCESSIBILITY:
American Sign Language interpretation services have been confirmed for this event. We will provide ASL interpretation and English transcription on the same screen as the virtual rally; access to these services requires a computer and internet connection.
ABOUT THE CASE:
In May 2018, Catholic Social Services ("CSS"), a faith-based foster care agency filed a lawsuit against the City of Philadelphia with whom it had a contract to provide public child welfare services. Despite the nondiscrimination provision in the City's contract with CSS (and all other contractors), CSS refused to license same-sex couples to be foster parents based on religious objections.
When the City told CSS that it had to comply with the nondiscrimination requirement or its contract would not be renewed, CSS sued the City, claiming that requiring CSS to abide by the generally applicable nondiscrimination requirement for contractors violated the free exercise of religion, even though CSS chooses to be a contractor and accept taxpayer funds to provide the public service of child welfare.
The federal trial court and the federal appeals court rejected CSS's argument and ruled for the City, finding that CSS's religious Free Exercise rights were not violated. CSS appealed to the United States Supreme Court, and in February 2020, the Court agreed to take the case. Oral arguments were heard in November 2020.