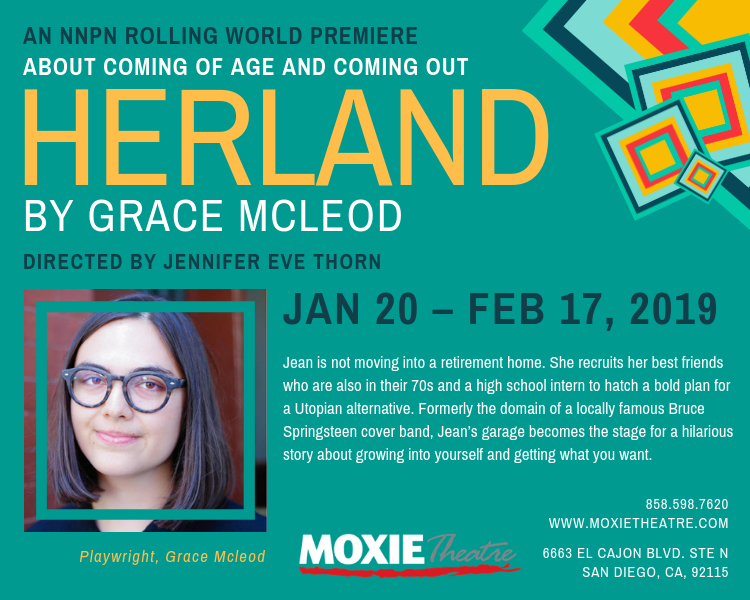 Join She Fest at the Moxie Theater for a preview of Herland and an awesome post-show discussion scheduled with the playwright Grace McLeod and Councilwomen Georgette Gomez titled "Queer Role Models in Fiction and Flesh".
When: Friday, January 25, 2019 @ 8pm, tickets $15-20, use promotional code "shefest" at checkout to benefit She Fest
Where: Moxie Theater
6663 El Cajon Blvd., Suite N. San Diego, CA
https://red.vendini.com/ticket-software.html?t=tix&e=8263603b5c417544a79b3c4e922a7272
"HERLAND" by Grace Mcleod, directed by Jennifer Eve Thorn, will be on stage at MOXIE Theatre from Jan 20 to Feb. 17, 2019, Thur @ 7:30pm, Fri & Sat @8pm & Sun @2pm.
This amazing new play comes to San Diego as a Rolling World Premiere in collaboration with the National New Play Network. The author, Grace McLeod, is a young, talented, and openly Queer playwright. Her work explores gender identity, sexual orientation and the difficulty of being accepted for who we really are.
"HERLAND" tells a unique story of coming out as both a young adult and as a senior citizen. This cross-generational story also explores themes of aging and female friendship.