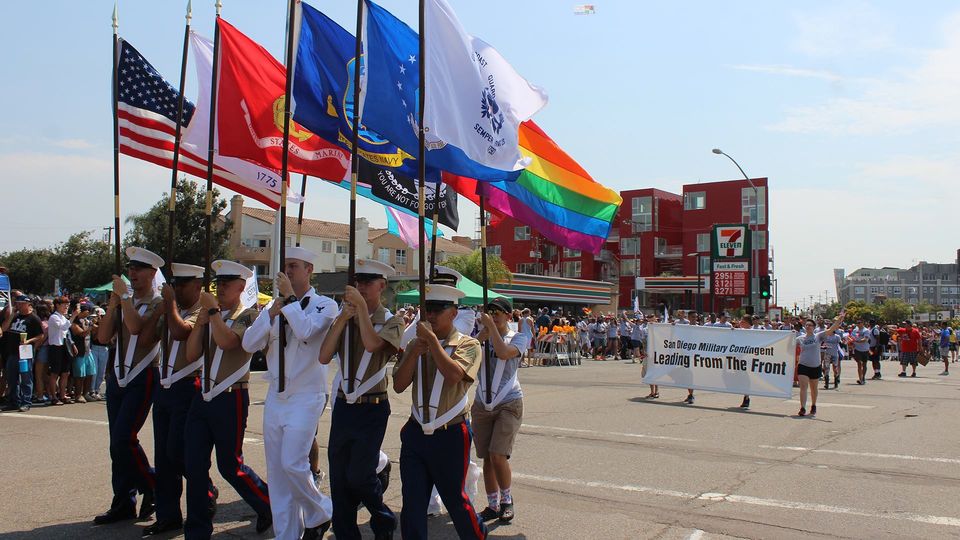 San Diego Pride will continue our proud tradition of welcoming members of the Armed Forces – active-duty, veterans, allies and loved ones to lead the annual pride parade as part of the Military Contingent. We are excited to honor those who have served our country and to provide this space, recognizing them during San Diego's largest civic event.
To register to walk in the Military Contingent in the annual San Diego Pride Parade on July 16 at 10:00 am, please fill out the form at www.sdpride.org/military.
Each participant is highly encouraged to wear their uniform, but must seek and receive prior approval from their command to do so. Veterans are welcome to wear their uniforms as well, as long as they respect proper wearing of said uniform. If approval is not granted, or if you wish to wear attire other than your uniform, service members are asked to wear a branch specific T-shirt. Please remember, official branch PT t-shirts are still classified as military uniforms.
Again: Active duty servicemembers must check with their Commanding Officer for additional information, direction, and instructions on wearing their uniform in the parade.
Although the Military Contingent is free to public, it is not free to put on. Please help us sustain these efforts by giving what you can.
Please Note: If you are not registered by June 16, we cannot guarantee that there will be a shirt available in your size.