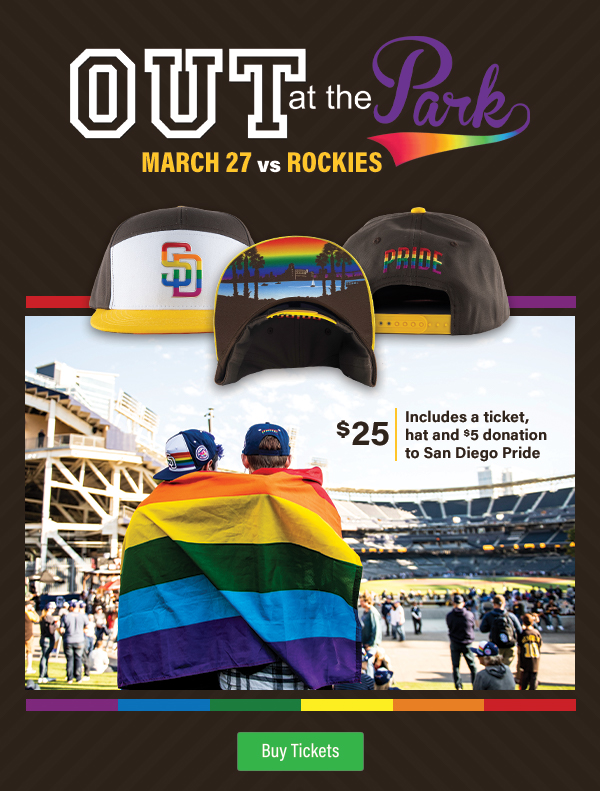 This event is hosted by San Diego Pride and the San Diego Padres.
Invite your friends on Facebook here.
Description:
Join San Diego Pride as we team up with the Padres for OUT at the Park on Friday, March 27 at Petco Park. Grab your friends, family and rainbows as we prepare to enjoy an exciting evening of entertainment and baseball when the Padres take on the Rockies at 7:10 p.m.
Arrive early and enjoy our pre-game "Tailgate Party" happy hour event in our VIP space from 4:30 – 7:00 p.m. in Park at the Park – in conjunction with CocktailFest presented by Southwest Airlines. Then, take your seat with the group as we watch the San Diego Gay Men's Chorus, San Diego Women's Chorus and San Diego Pride and Padres staff perform the National Anthem together on the field.
Your OUT at the Park ticket purchase includes a seat in our OUT at the Park section, a commemorative OUT at the Park Padres hat, $5 donation to San Diego Pride and access to the pre-game VIP space in Park at the Park (food and drinks not included).
To purchase 10 or more tickets please contact Logan Washburn at 619.795.5137 or [email protected]
Get your tickets now at Padres.com/pride
Accessibility information: Reserved seating is available through the Padres upon request for people with disabilities. ASL interpretation will be provided in the accessible seating area and during the National Anthem. For any other accommodation requests, please email [email protected]
Note: Giveaway is included in Theme game package only. Must purchase ticket package from dedicated offer link. Available on a first-come, first-served basis. Subject to availability. This is not an all-fan giveaway and the giveaway will only be provided to those who purchase the Theme Game ticket package.
Only fans who purchased tickets through the OUT at the Park Theme Game offer will receive a hat.