Out Professionals – March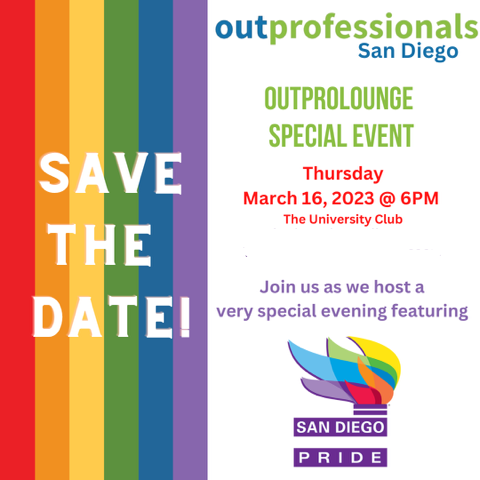 We'll meet you at the University Club, San Diego's premier social and business club. Located at the pinnacle of one of downtown's tallest buildings, Symphony Tower, the club boasts a stunning panoramic view to inspire your networking.
Out Pro creates a welcoming environment that welcomes the full diversity of the LGBTQ community as well as supportive allies. Our growing national chapter network can help you create a network of connections that can advance your career.
Color-coded industry badges will help you identify and connect with people in your industry or make it easier to connect with those in industries that matter to you.
Be sure to pocket a handful of business cards to exchange for later follow-up.
You never know whom you'll meet. Enjoy free admission to every Out Pro Lounge and other benefits, join during your registration for this event or at outprofessionals.org/membership!