QT Social Movie Night – Gun Hill Road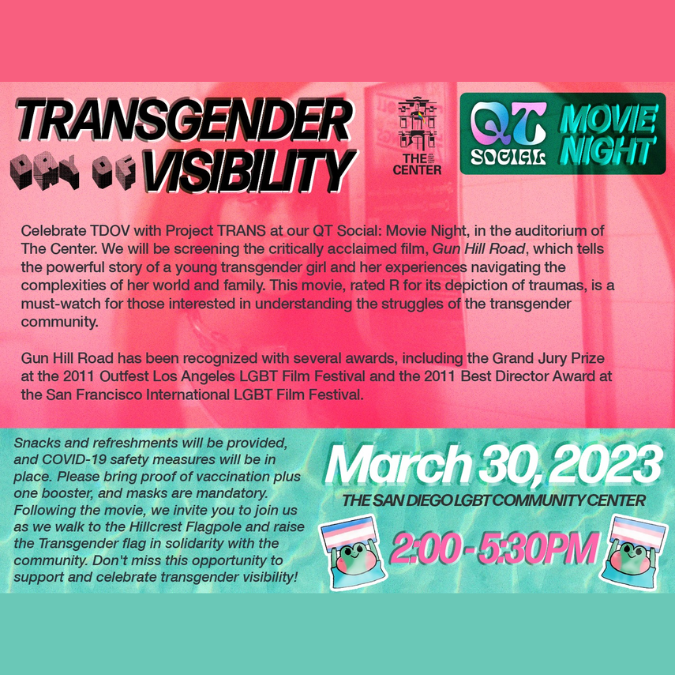 Project Trans at The San Diego LGBT Community Center invites you to the Transgender Day of Visibility QT Social Movie Night.
Celebrate Transgender Day of Visibility on March 30th with Project TRANS at our QT Social: Movie Night in the auditorium of The Center. We will be screening the critically acclaimed film, Gun Hill Road, which tells the powerful story of a young transgender girl and her experiences navigating the complexities of her world and family. This movie, rated R for its depiction of traumas, is a must-watch for those interested in understanding the struggles of the transgender community.
Gun Hill Road has been recognized with several awards, including the Grand Jury Prize at the 2011 Outfest Los Angeles LGBT Film Festival and the 2011 Best Director Award at the San Francisco International LGBT Film Festival.
Snacks and refreshments will be provided, and COVID-19 safety measures will be in place. Please bring proof of vaccination plus one booster, and masks are mandatory.
Following the movie, we invite you to join us as we walk to the Hillcrest Flagpole and raise the Transgender flag in solidarity with the community. Don't miss this opportunity to support and celebrate transgender visibility!