2021 Equality Business Awards LIVE! at Urban Mo's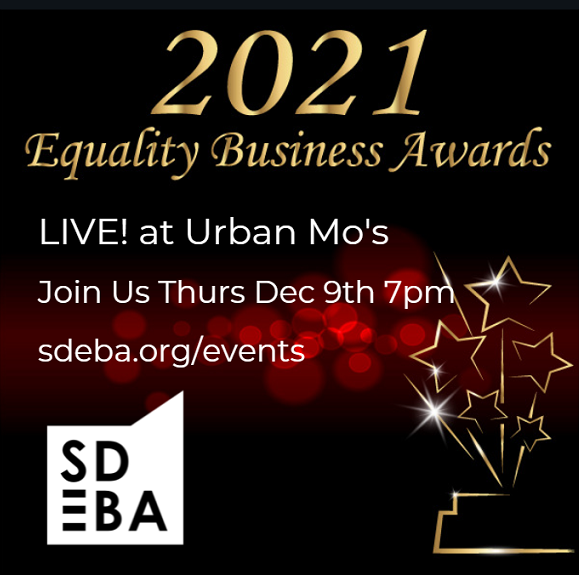 This event is hosted by The San Diego Equality Business Association
Join Us as we celebrate and announce our 2021 Equality Business Award Winners LIVE! at Urban Mo's!  Your ticket includes a three-course meal, table wine, and a special program featuring our very own MC Jeff Gelder, SDEBA Member presenters, and fabulous performances from Mo's talented staff! We'll be announcing the following award winners: Business of the Year, Ally Business of the Year, Emerging Business of the Year, Community Impact of the Year, Corporate Partner of the Year, Business Person of the Year, and the 2021 recipient of the Cindy Lehman Lifetime Achievement Award.
SDEBA Members:
Early Bird Tickets $60 (save $15 if booked by November 12)
Standard Ticket $75
Table of 4 $300
Non SDEBA Members:
Standard Ticket $125
Table of 4 $500
Sponsorships:
Title $5,000 (1 available) includes 12 VIP tickets (2 tables of 6)
Award Sponsor $1,500 (3 available) includes VIP table of 6.
Sponsorships include hosted cocktail hour 1 hour prior to the event, social media recognition, commercials to be played during the event, and additional recognition.
Please note: Urban Mo's requires all guests for this event to be fully vaccinated and show proof of vaccination along with identification OR a negative COVID test within 48 hours of the date and time of the event.