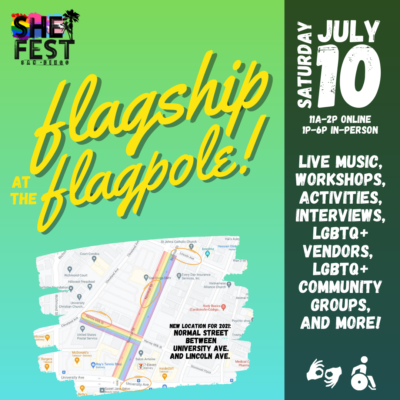 Join She Fest for its annual flagship event that kicks off San Diego's LGBTQ+ Pride week. This year we're serving up a hybrid event filled with virtual content and in-person experiences for San Diego's LGBTQ+ women and non-binary folks. Catch our virtual livestream on Saturday, July 10, 2021 from 11a-2p and come visit us in-person from 1-6p at our new home at the Hillcrest Flagpole (Normal Street between Lincoln and University). Enjoy live music, activities, LGBTQ+ vendors and community groups, workshops, interviews, and more all day on July 10, 2021. 
Tabling Application now open for She Fest, Apply here.
Bus route: 1/11
ABOUT SHE FEST: 
We are a volunteer committee of LGBTQ+ women and non-binary folks centering the diverse experiences of LGBTQ+ women and people who feel at home with "she." Together, we foster community connections for San Diego's LGBTQ+ women and intentional allies; we combat homophobia, transphobia, and the patriarchy; and, we highlight and celebrate the spectrum of "she." We are explicitly inclusive and affirming of trans women and non-binary folks. 
Accessibility
American Sign Language interpretation services can be arranged for this event with at least one week of advance notice. We will provide reserved seating for those who use ASL interpreters and those with accessibility needs in the first row. The venue is accessible to all mobility devices. All-gender, mobility-device-accessible restrooms are available at the venue. For any other accommodation needs, please email [email protected] one week before the event.