Strike a Pose: Pride Yoga at the Rady Shell at Jacobs Park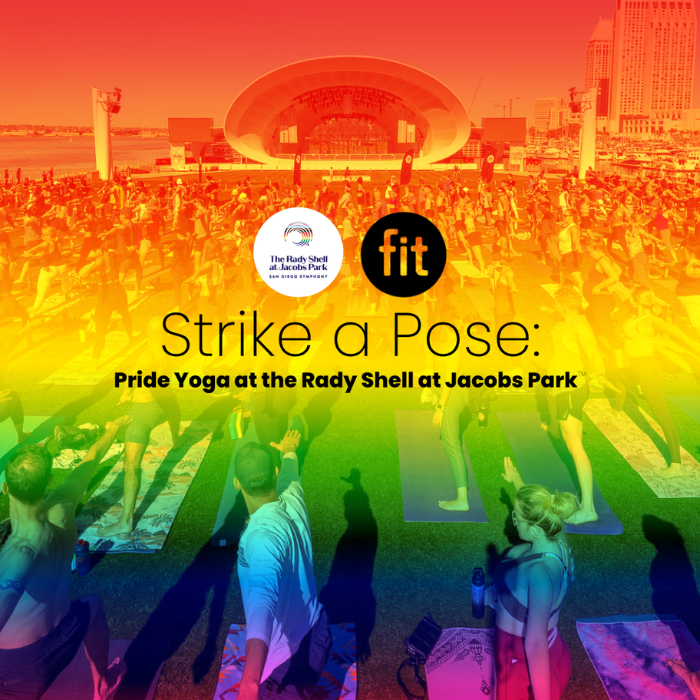 The San Diego Symphony is thrilled to celebrate International Pride Month at The Rady Shell at Jacobs Park by hosting its first-ever Pride Yoga event with FIT Athletic on July 14th, 2022, entitled "Strike a Pose". The event will be hosted as one of the Symphony's free events at The Rady Shell at Jacobs Park, and attendance is free for all who register on www.theshell.org. The Symphony has expanded capacity for this special yoga class and dance party to accommodate up to 3,000 guests.
For the first-ever San Diego Pride event hosted at The Rady Shell, the Symphony will offer an exciting opportunity for yogis (and non-yogis!) across the county to enjoy all the park's amenities free of charge. The hour-long sunset class, instructed by Viktoria Talbot, begins at 6:30 p.m. on the lawn of Jacobs Park. After the class, guests are encouraged to stick around and boogie-down as The Rady Shell is transformed into an epic dance party with music provided by DJ Sassy and featuring the dazzling lights of The Rady Shell. The event will conclude just as the sun dips into the sea, celebrating another year of Pride in "America's Finest City."
To further support its Pride Community, the San Diego Symphony will change its logo colors to include the Pride Progress Flag for the entire month of June and through July 17 for San Diego Pride week. The San Diego Symphony stands in solidarity with its LGBTQ+ community.
STRIKE A POSE: PRIDE YOGA AT THE RADY SHELL AT JACOBS PARK
Thursday, July 14, 2022
5:30 p.m. — The Rady Shell gates and bars open
6:30 p.m. — Yoga class on the lawn, led by Viktoria Talbot
7:30 p.m. –Dance Party! Get your groove on with DJ Sass