DIY SUGAR SKULLS / CALAVERAS DE AZUCAR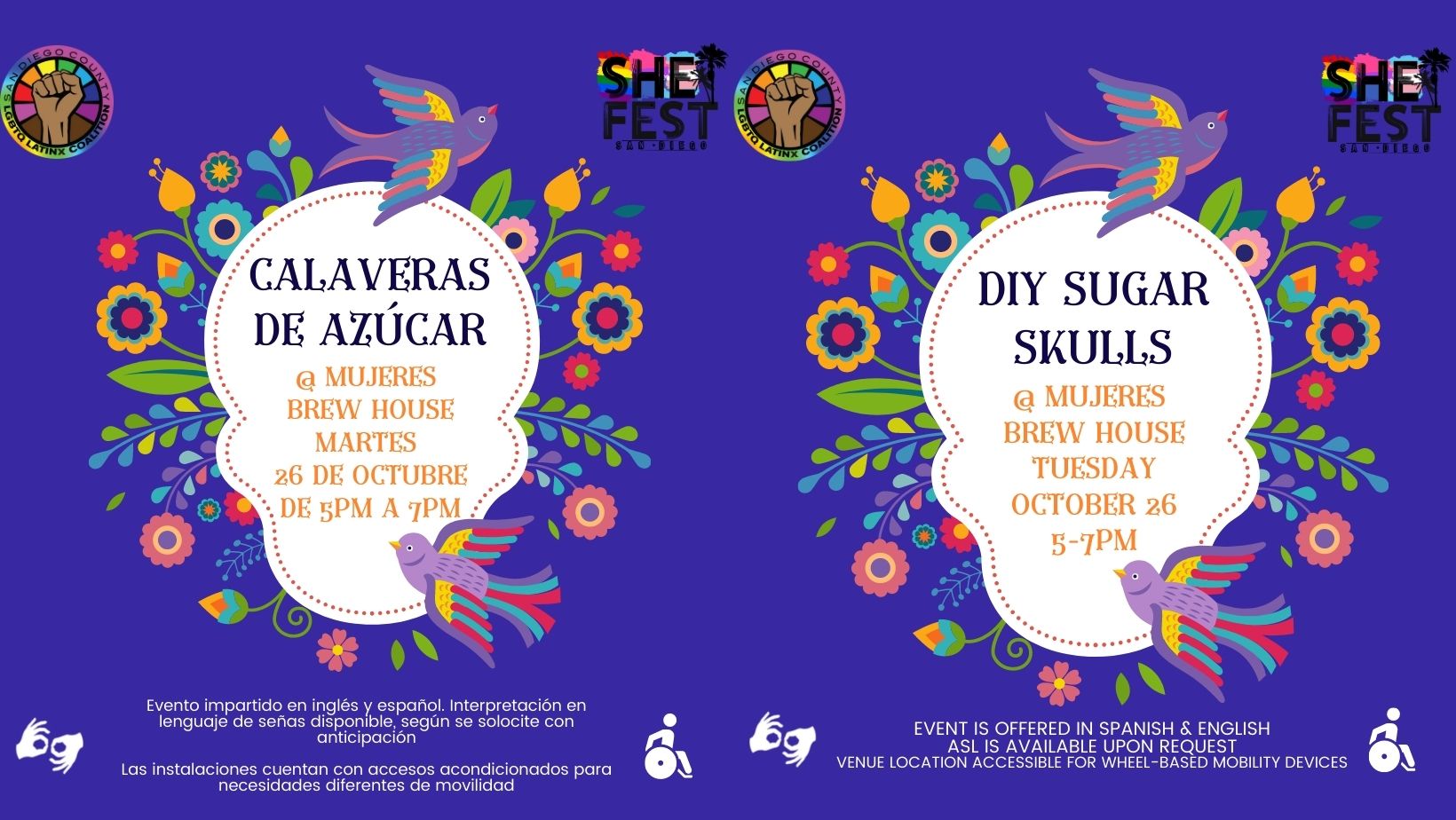 Join the San Diego LGBTQ Latinx Coalition and She Fest to decorate sugar skulls! We will provide calaveras for your altars. Please note that calaveras contain egg product and sugar.
¡Acompaña a San Diego LGBTQ Latinx Coalition y a She Fest para decorar calaveras de azúcar! Proporcionaremos calaveras para tu altar. Toma en cuenta que las calaveras contienen productos de huevo y azúcar.
Date/Fecha: Tuesday/Martes, October 26, 2021
Time/Hora: 5-7pm
Location/Lugar:  Mujeres Brew House, 1983 Julian Avenue, San Diego, CA 92113
Venue type/Tipo de lugar: Outdoors, open-air, all ages (non-alcoholic beverages available) Afuera, al aire libre, para todas las edades (bebidas no alcohólicas estan disponibles)
A NOTE ABOUT COVID-19 VACCINES: To RSVP for this event, you must be vaccinated or have proof of a valid Covid-19 negative test that is not more than 48 hours old from the time of the event.
UNA NOTA SOBRE LAS VACUNAS COVID-19: Para confirmar tu asistencia a este evento, debes estar vacunado o tener prueba de una prueba negativa de Covid-19 válida que no tenga más de 48 horas desde el momento del evento.
A NOTE ABOUT MASKS: Masks are required for anyone who is not vaccinated. Masks are optional and encouraged for folks who are vaccinated.
NOTA SOBRE CUBREBOCAS: Se requiere cubrebocas para cualquier persona que no esté vacunada. Los cubrebocas son opcionales y se recomiendan para las personas que están vacunadas.