Together Strong Photo Shoot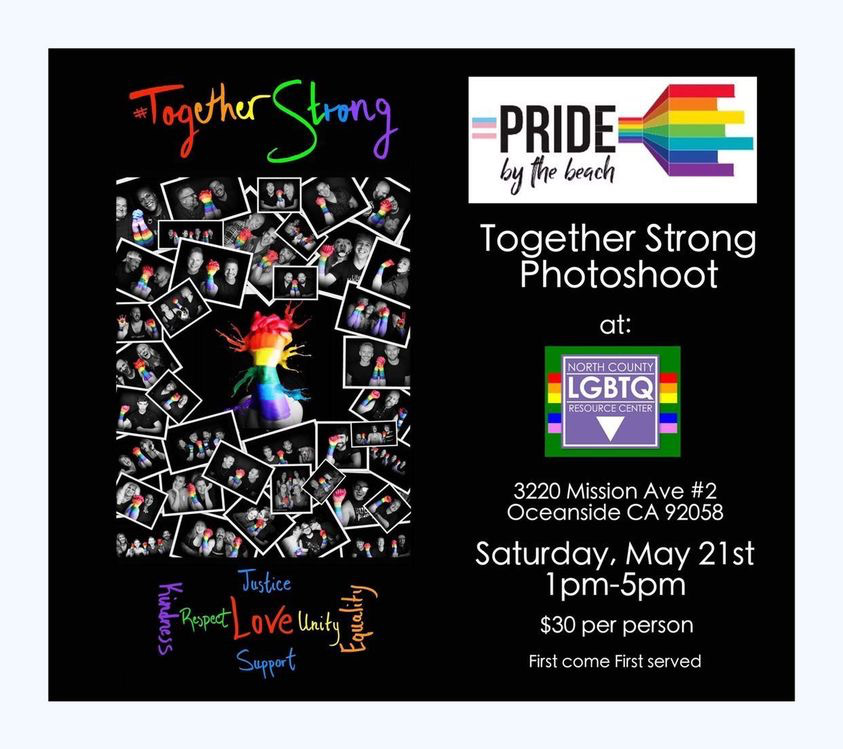 Don't miss out on this TOGETHER STRONG photo shoot Saturday May 21st from 1pm to 5pm.  First come first served.
To purchase, call 760-994-1690!
$30 donation
Rikke form Rikke photography will take single, group photos for the Together Strong photo shoot at the NorthCounty LGBTQ Resource Center
Nestled under the umbrella of the North County LGBTQ Resource Center, Pride by the Beach is a program that will shelter you from any storm. Our mission is to serve, empower and advocate for San Diego North County's diverse LGBTQI+ community. We have worked tirelessly for more than 10 years to accomplish this goal. The lifesaving services and programs we've created have helped thousands of LGBTQI+ people. We are extremely proud that since the beginning of the COVID-19 global pandemic, Pride by the Beach has never closed its doors, and has in fact, increased its services to the community.
Our reach extends to over 13 cities in the North San Diego region, as well as Camp Pendleton. Some of the programs we have to offer include mental health resources, support groups for our transgender friends, HIV prevention and care, and transitional housing for youth at risk for homelessness. We continue to discover innovative ways to serve our community and hope to do this for the next 10 years and beyond.