December Vaccination Clinic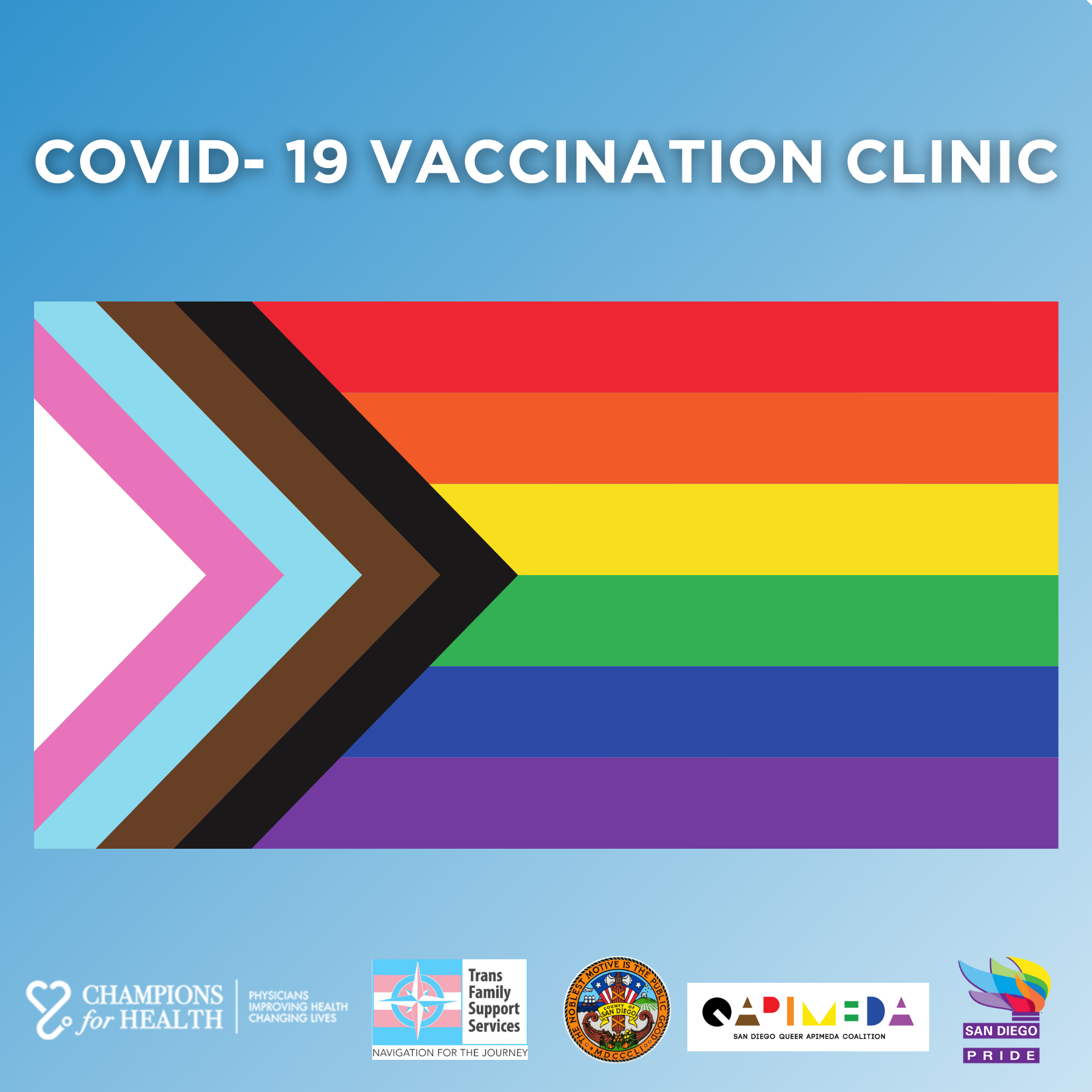 Many in the LGBTQ community, underserved communities, and those living with HIV experience substantial barriers to accessing healthcare.
On Saturday, December 4, 2021, San Diego Pride and TransFamily Support Services, with Champions of Health in partnership with San Diego County, will be holding a final 2021 Vaccination clinic at the Pride Office to administer COVID-19 second shots, first shots, and booster shots to those who are eligible. We're also offering Flu shots.
There are now booster recommendations for all three available COVID-19 vaccines in the United States. Eligible individuals may choose which vaccine they receive as a booster dose. Some people may have a preference for the vaccine type that they originally received and others may prefer to get a different booster. CDC's recommendations now allow for this type of mix and match dosing for booster shots.
For the nearly 15 million people who got the Johnson & Johnson COVID-19 vaccine, booster shots are recommended for those who are 18 and older and who were vaccinated two or more months ago.
For individuals who received a Pfizer-BioNTech or Moderna COVID-19 vaccine, the following groups are eligible for a booster shot at 6 months or more after their initial series:
65 years and older
Age 18+ who live in long-term care settings
Age 18+ who have underlying medical conditions
Age 18+ who work or live in high-risk settings
NOTE: Our below vaccination clinic will provide Pfizer-BioNTech and Moderna 1st & 2nd shots, boosters, and flu vaccine shots.
OPEN TO ALL – ESPECIALLY FOR YOUTH & TRANSITIONAL AGED YOUTH
The vaccination clinic will be held on Saturday, December 4, 2021, from 2 – 6 pm.
Youth 12 – 17 must be accompanied by a parent and/or legal guardian. 
Appointments are not required but are highly encouraged. 
Appointment availability depends on vaccine supply. Please fill out the form or call 619-297-7683 to make an appointment.
Appointments last approximately 30 minutes.
Appointments are grouped to ensure all doses are used.
You will be asked to provide your name, address, date of birth, and contact telephone number.
Vaccines are free. You do not need health insurance.
Vaccines are available to everyone with any immigration status that can receive a vaccine.
Invite your friends on Facebook
ACCESSIBILITY
American Sign Language interpretation services can be arranged for this event with at least one week of advance notice. We will provide reserved seating for those who use ASL interpreters and those with accessibility needs in the first row by request. The venue is accessible to all mobility devices. All-gender, mobility-device-accessible restrooms are available at the venue. For any other accommodation needs, please email [email protected] one week before the event.