Friend of Pride: An individual who does not identify as lesbian, gay, bisexual, transgender, or queer, but who has stalwartly supported the LGBTQ community over an extended period of years and/or has made an exceptional contribution in the past year.
VANESSA GREEN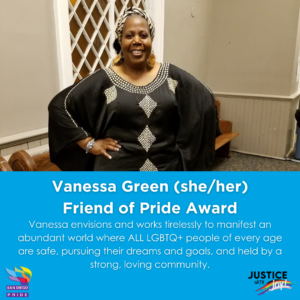 Vanessa Green relocated to San Diego in September 2018 to be closer to her children. In May 2019 she began working for Alliance San Diego as the Census and Redistricting manger. In June 2021 Vanessa was hired for the newly created County of San Diego Office for Equity and Racial Justice as Equity Impact Manager. One of the missions of the office is to champion belonging for all and advocate for people suffering from structural and systemic racism and exclusion.
Vanessa is also a proud and active member of The Center's Black LGBTQ+ Community Advisory Committee. Vanessa sits on the organizing committee for San Diego March4Black WomXn and Black WomXn Deserve. Vanessa Green was the Director of the VCS Domestic Violence Program for Men and was the organizer of all anti-oppression work at VCS Inc. Her anti-oppression work included Rockland Pride, and their LGBTQI initiative in Hudson Valley New York for over 25 years. Vanessa was recognized in New York State as an activist in the fight to end men's violence against women. In addition, Vanessa's article, "The Impact of Pornography on Women" was published and shared widely.
Her specific interests revolve around Human's rights, women's rights (including Trans) and sexuality, and race and identity politics concerning diaspora'd peoples. She is founder of Call BlackLine a crisis listening line for Black, Indigenous and People of Color, LGBTQI, gender non-conforming community. Witnessing caller's negative interaction with police, vigilante and businesses across the United States and Canada. Call BlackLine is non-judgmental, affirming, and supportive, listener-witnessing and information gathering about BIPOC, LGBTQI, gender non-conforming experience. As a multi-generational Black Women, Vanessa was raised by an outspoken and politically active mother, Jean Green, and has two beautiful children, Nyisha and Ahkiem.
Vanessa along with #100Sistas organized Black Women's March Continuing the Legacy of Harriet Tubman on April 7th, 2018. The largest march in the Hudson Valley NY with demands and issues focusing on gender and racial injustice, since the Tawana Brawley case in 1987. Vanessa envisions and works tirelessly to manifest an abundant world where ALL LGBTQ+ people of every age are safe, pursuing their dreams and goals, and held by a strong, loving community.