Pride Youth Collective
Due to physical distancing measures required for public health and safety during the COVID-19 pandemic, Pride Youth Collective will be held virtually.
Please sign up here to receive the Zoom link.
Join us every second Saturday of the month from 11am to 2pm at the San Diego Pride office (3620 30th Street San Diego, CA 92103) for the Pride Youth Collective.
This space is dedicated to leadership, professional development, and building community for LGBTQ+ junior high- and high school-aged youth through interactive workshops with guest presenters from around San Diego. Lunch and beverages are provided, so no need to pack a lunch!
Attention teachers, parents and youth! Follow us on Instagram @sdprideyouth + spread the word! Download our flyer to pass along to students and through your local GSA!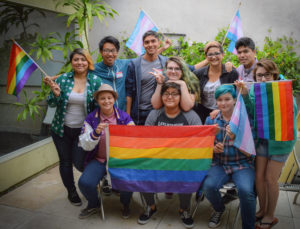 Get connected to other youth-serving programs and help Pride plan other youth-centered events and this year's Youth Zone at Pride!
For questions, connect with our youth team at [email protected]
Schedule of topics:
January 9: Know your rights!

February: Unpacking V-Day Expectations
March: Fundraising 101
April: Sexual Assualt Awareness
May: Resume Building
June: Sex Ed
July: She Fest
August: GSA Prep + Start-Up
September: College 101
October: LGBTQ+ History
November: Youth Leadership Academy
December: Genderbread