Stonewall Philanthropy: A group, organization, or individual which may or may not identify as lesbian, gay, bisexual, transgender, or queer, but which has diligently raised funds to support the LGBTQ community over an extended period of years and/or has made an exceptional contribution in the past year. 
VIEJAS CASINO & RESORT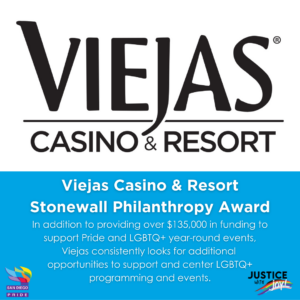 In 2020 alongside much of the world, San Diego Pride was faced with many losses, setbacks, and unknowns. The fate of the organization was at stake and without the ability to host the parade and festival, the outlook was bleak. Viejas Casino & Resort stepped forward and provided over $135,000 in support to San Diego Pride to assist with pivoting events to virtual, hybrid, and pandemic-conscious programming. Their generosity provided the necessary financial and operational support to carry Pride through unprecedented times.
Their commitment to the LGBTQ community continued as they found ways to center LGBTQ events in their programming, provide in-kind support year-round, and consistently ask how they can support Pride's efforts. Viejas Casino & Resort proudly supports San Diego Pride and the LGBTQ community.
Viejas Casino & Resort