Stonewall Service: A group or organization which may or may not identify as LGBTQ but which has stalwartly supported the LGBTQ community over an extended period of years and/or has made an exceptional contribution in the past year.
SAN DIEGO UNION TRIBUNE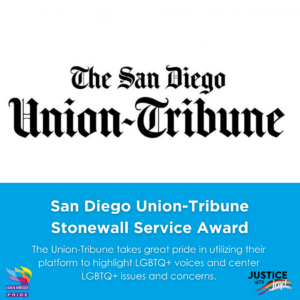 The San Diego Union-Tribune is honored to receive the 2022 Spirit of Stonewall Service Award.
The Union-Tribune's mission is to spread knowledge, build understanding and create opportunity in the communities we serve.
We take great pride in highlighting LGBTQ+ voices and centering LGBTQ+ issues and concerns. Below are some examples of our efforts in print, online, audio, video, and in the community.
On Sunday, Jan. 31, 2021, shortly after President Joe Biden ended the military's ban on transgender service and nominated Dr. Rachel Levine to be his assistant health secretary, we dedicated our opinion section to hear from the local transgender community about what this news meant to them. We included a reference guide of terms at the bottom of the page.
On Sunday, Feb. 21, 2021, we dedicated the opinion section to informing readers about what nonbinary means. Three writers shared their insights about a community of people who don't identify exclusively as men or women. A few months later, our opinion page headline read "Loud and Proud" above three more stories of identity.
LGBTQ+ voices also played an important role in our Hello Gen Z podcast in 2020. The podcast introduced San Diego to the most ethnically and racially diverse American generation yet. This episode about stereotypes featured Bug Valladolid, who is nonbinary.
In recent years, we have had the privilege of sponsoring San Diego Pride and have produced a series of videos that have been featured on our website, social media platforms, our weekly livestreams, and on cable television.
We are extremely grateful for the help and guidance of San Diego Pride's executive director, Fernando Lopez, who also serves on the Union-Tribune's community advisory board and contributes to our Community Voices Project.
San Diego Union Tribune