Champion of Pride: An individual who has demonstrated outstanding leadership in the LGBTQ community over an extended period of years with consideration to service to San Diego Pride.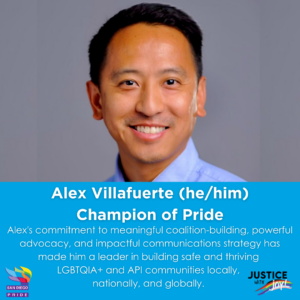 Alex Villafuerte
During his time at San Diego Pride, Alex co-founded the San Diego Queer Asian Pacific Islander Middle Eastern Desi American (QAPIMEDA) Coalition creating intentional space designed to foster meaningful discussions about this often forgotten about intersection.
Through San Diego Pride and QAPIMEDA, Alex was instrumental in helping put out a joint statement with the Pacific Arts Movement and over 80 local organizations denouncing the xenophobia, racism, and hate towards the AAPI community that increased during the COVID-19 pandemic. From this work, the San Diego API Coalition was formed using the LGBTQ Community Leadership Council as a model and Alex currently serves as the co-chair alongside Lauren Garces. The San Diego API Coalition currently has over 40 API-serving organizations in its membership and was crucial in helping create solidarity and healing during the tragic March 15, 2021 Atlanta Spa Shootings.
Alex left San Diego Pride in September to join the Asian Business Association San Diego where he currently serves as the Director of Communications and Membership advocating for API-owned small businesses and entrepreneurs.
In that capacity and through the San Diego API Coalition, Alex helped turn out engagement around the redistricting process in both the City of San Diego and the County of San Diego. With a broad coalition working together to advocate for representation, the Asian Empowerment District in San Diego increased its AAPI representation to over 40%.
Through the many different roles Alex still currently serves in, Alex is committed to uplifting Queer, Trans, Asian, Native Hawaiian, and Pacific Islander voices and representation in small business, arts & culture, and in leadership.