The Center's Professional Development Fair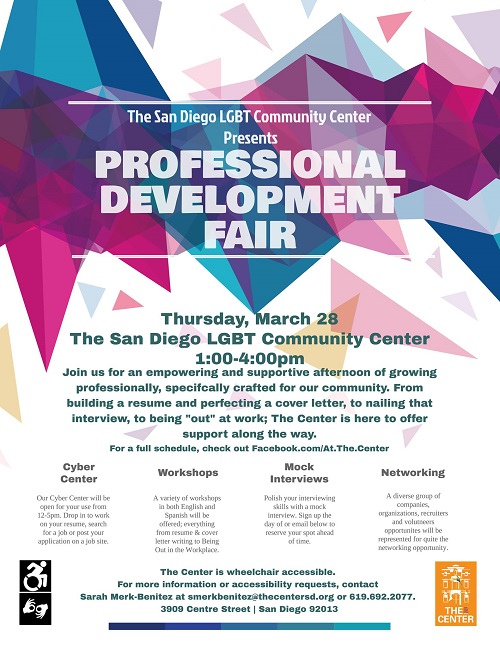 This event is hosted by the San Diego LGBT Community Center.
Invite your friends on Facebook here.
Description:
Join The Center for an empowering and supportive afternoon of growing professionally, specifically crafted for our community. From building a resume and perfecting a cover letter, to nailing that interview, to being "out" at work; The Center is here to offer support along the way.
Cyber Center: Our Cyber Center will be open for your use from 12-5pm. Drop in to work on your resume, search for a job or post your application on a job site.
Mock Interviews: Polish your interviewing skills with a mock interview. Sign up the day of or email below to reserve your spot ahead of time.
Networking: A diverse group of companies, organizations, recruiters and volunteer opportunities will be represented for quite the networking opportunity.
Workshops:
1:00-1:50pm
Resume and Cover Letter Writing
First impressions matter! Cover letters and resumes are your first introduction to a potential new employer, so let's make them count. The purpose of this workshop is to teach some simple tips and tricks that will help your applications stand out.
2:00-2:50pm
Managing Your Professional Development
Professional development includes a portfolio of resources. How do resources–online, social media-based, print, personal, and professional–factor into your professional development planning? This session provides core strategies to manage and effectively use these resources.
3:00-3:50pm
Out in the Workplace
Being out at work can sometimes be a daunting challenge, but it can also relieve the daily stress of hiding who you are. At this workshop, we'll discuss some practical tools and tips on how to move forward in your current place of employment; as well as things to consider when applying for a new position.
The Center is wheelchair accessible. For more information on the event or accessibility requests, contact Sarah Merk-Benitez at [email protected] or 619.692.2077.