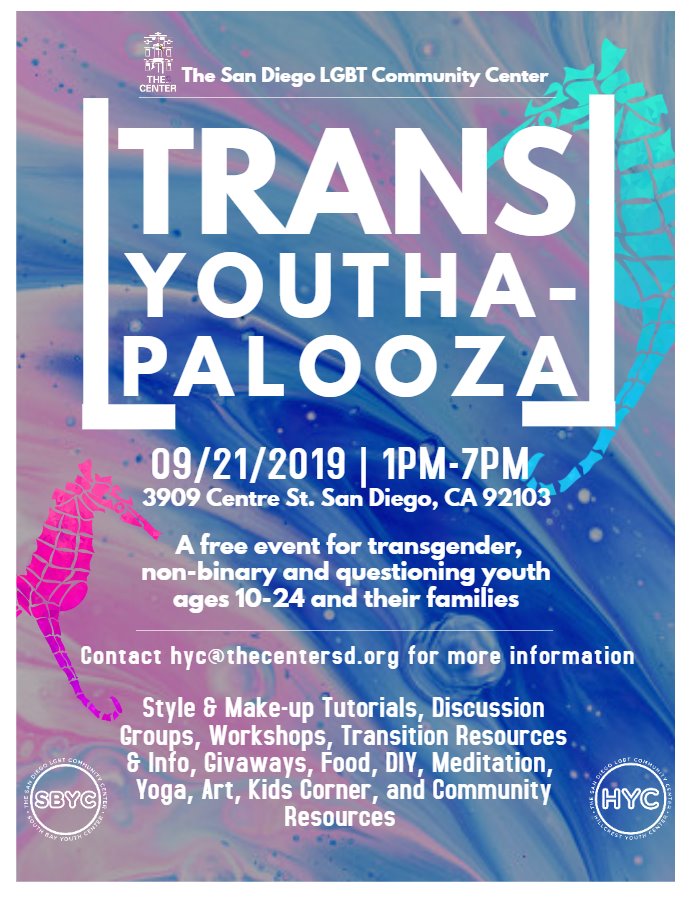 This event is hosted by the Hillcrest Youth Center.
Invite your friends here.
Trans Youthapalooza is coming your way Saturday, September 21st!
This is a free event for transgender, non-binary and questioning youth ages 10-24 and their families.
Don't miss this opportunity to engage in discussion groups and workshops centering the lived experiences and personal growth of trans, non binary and questioning youth! We will have a youth track and a family track to meet the needs and interests of our community.
In addition we will be offering:
Style & Make-up Tutorials, Transition Resources & Info, Giveaways, Food, DIY, Meditation, Yoga, Art, Kids Corner, and Community Resources.
Please reach out to [email protected] for inquiries and accommodations.
Date: September 21, 2019
Time: 1:00PM-7:00PM
Location: The San Diego LGBT Community Center | 3909 Centre St. San Diego, CA 92103