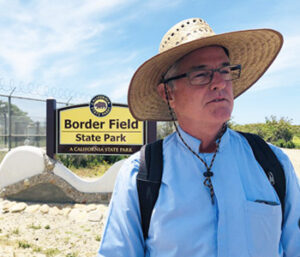 Rev. John Fanestil
A native of San Diego, John is a graduate of Dartmouth College, Oxford University, where he studied as a Rhodes Scholar, and the Claremont School of Theology. He earned a Ph.D. in History from the University of Southern California, specializing in early American religion and the history of the U.S.-Mexico borderlands.
John has worked for decades at the intersection of the church, the academy, and movements for social justice. He has stood in solidarity with the LGBTQ+ community throughout his career, presiding over same-gender marriages as far back as the 1990s, helping to lead the local No Hate campaign of 2008, and serving for 7 years as the Dean of San Diego Strength for the Journey, a week-long spiritual and healing retreat for people living with HIV/Aids.
Since 2006, John has convened the Friends of Friendship Park, a coalition of local stakeholders advocating for public access to the historic meeting place overlooking the Pacific Ocean on the border between San Diego and Tijuana. Since 2011, he has worked with friends from Tijuana to convene El Faro: The Border Church, a weekly celebration of communion at Friendship Park. He has spoken to hundreds of groups and dozens of media outlets from around the world about the history of Friendship Park.
In January 2020, John became Executive Director of Via International, a binational nonprofit organization with a proud, 45-year history promoting sustainable community development on both sides of the border in the San Diego/Tijuana region.  Via International has long served as the fiscal sponsor for The Friends of Friendship Park, so assuming this position has allowed John to double down on his work promoting productive cross-border relations.