Let Me Introduce You To…
Randy Pittman, Volunteer Village Manager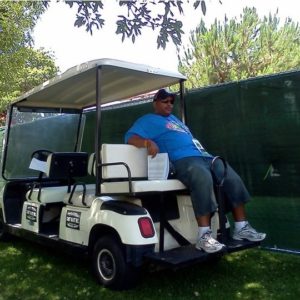 He / Him / His
"This will be my 17th year volunteering with San Diego Pride, a fact I am very proud to share."
Randy began volunteering with San Diego Pride in 2000. He had so much fun his first year that he's come back every year since. "In my first year, I volunteered for both days of the Festival. On Saturday I worked with Exhibitor Relations, helping to check-in vendors, and on Sunday I staffed an emergency exit." Since then, Randy has been a Main Gate Supervisor, the Juniper Street Entrance Coordinator, the Volunteer Village Coordinator, and now for the past 5 years, the Volunteer Village Manager.
What is the Volunteer Village and what do you do as Volunteer Village Manager?
Volunteer Village is "Volunteer Grand Central" at the Music Festival. It's where our most precious asset, our volunteers, come to check-in for their shifts. Volunteer Village is the place at the festival where volunteers can get away from the festival, sit down, rest, relax and recharge. It's their "volunteer sanctuary" if you will.
As Volunteer Village Manager, I oversee the "tenants" in the village and ensure our volunteers are being taken care of. Inside Volunteer Village you will find the following "tenants": A-Team, Carts and Communication, Community Partner Check-in, Media Relations, Photography, Volunteer Check-in, and Volunteer Hospitality. My job is to ensure that everyone has what they need to do their job and support the festival.
Why do you volunteer with San Diego LGBT Pride?
Volunteering with San Diego Pride is my way to give back to the LGBT Community in San Diego. Since I've begun volunteering with Pride in 2000, San Diego Pride has donated almost 2 million dollars back to the San Diego LGBT community. I'm proud of that and proud to help make Pride a place where everyone belongs and everyone is welcome. Whether it's your first year volunteering with Pride or your 17th – Pride is about having fun.
What are you reading right now?
My psychology textbook! I'm a full-time student at National University completing my degree in psychology. My plan is to graduate with a degree in psychology and then get my master's degree and then become a Marriage / Family Counselor.
What's the last movie you saw (DVD or in the theatre)?
Moonlight. I found it incredibly moving how the movie dealt with the whole question of manhood and what it means to be a man.
Coffee or tea?
Tea – any herbal tea.
What's playing on your iPod?
Old school jazz – Nat King Cole, Ella Fitzgerald and Count Basie.
What should people know about you?
"I'm an easy going guy, born and raised in Rochester New York, who joined the Navy right out of high school and did 6 years in Japan and another 7 years in San Diego." (I would remove these quotes because none of his other answers has them).
When you aren't volunteering with Pride, where might you be found?
I live in Point Loma, and when I'm not volunteering with Pride, or at work, or at school you'll find me hiking down to the beach and walking the shores around OB with my two dogs.
What advice do you have for someone coming to Pride?
Take it all in. Walk the festival loop and take in the sights, sounds, and smells and then relax, smile and have fun.
What are you looking forward to for Pride 2017?
I look forward to seeing old friends and making new friends. I look forward to helping make the festival a success – more people attending, more people volunteering, bigger crowds and everyone having a great time.
---

Be Part of the Pride Family!

If you're interested in volunteering with San Diego Pride, we'd love to have you! Please follow the link below to learn more about how you can be involved in your community!