1970
The Gay Liberation Front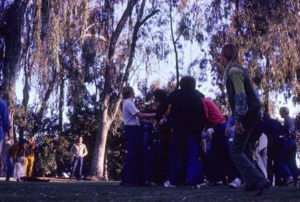 In February of 1970, students at San Diego State College organized to form the Gay Liberation Front. They applied to become an official on-campus organization and Robert Brunsting, Ellen Sampson, Harold Luckey, and Elizabeth Reid were listed as officers on the organization's application.
From the application: "The purpose of this organization shall be gay liberation; the promotion of positive attitudes in our society toward the homosexual. Gay Liberation shall at all times operate within the state laws of California."
Although they were granted status as an on-campus organization, the administration was not in favor of the group's existence and routinely turned down applications for dances and other activities. The administration later used the presence of non-students in the organization as an excuse to revoke their charter, although the organization continued to meet off campus.
The First Gay-In
In December, of that year, the GLF held a "Gay-In" at Presidio Park. The first Gay-In was attended by 60-100 people. The Gay-In featured food and drinks, and pro-gay posters and signs were hung from nearby trees. The presence of face-painting, ponchos, long hair, peace signs, bandannas, beards, and hippy clothing styles were typical for the time.
Although the Gay-In was a far cry from the Gay Pride we know today, the significance of so many gays and lesbians gathering together at such an "out" event can't be overstated. It was a momentous occasion and possibly the earliest expression of San Diego's Gay Pride. It was a statement that the community wasn't going to be satisfied with congregating in bars and clubs any longer.
It is also worth noting the risk that the people who attended the event were taking simply by being in public at a homosexual event. In 1970, sodomy wasn't just a crime, it was a felony, and many people considered gay people and organizations to be a community of criminals.
As such, the police were unsympathetic in their treatment of "queers." Stephen Bell tells a story of the police following two men home from a bar, waiting a few minutes, then busting into the house and, upon finding the men in a state of undress, arresting them for sodomy.