Art of Pride through the years
Art of Pride was created to intentionally have civic and artistic spaces where LGBTQ artists can freely express themselves and have a venue for community members to enjoy their creativity. The program offers a space in the festival as well as the opportunity to be a featured artist with their pieces displayed at the Pride office in North Park.
Pride Art Show
Every other month Pride hosts an art show in their North Park office featuring an LBGTQ artist including a youth art show every March. *This is now virtual due to the COVID-19 Pandemic*
Next Installment
LOVE in Art
Call to Artists
Submission deadline: Friday, January 29, 2021
This year, Art of Pride will be hosting a virtual art event that showcases the LGBTQ community's artwork, maintaining and strengthening our friendships and connections as we get through these unprecedented times.
Our next virtual art show/event, Love in Art is a celebration of love & tradition viewed through the eyes of the LGBTQ community. We are seeking original expressions of what Love in Art means to you. Join us as we continue the tradition of art in our community.
CALL DETAILS
Artists are encouraged to submit:

Up to 10 pieces in the media of their choice (mixed media, painting, drawing, photography, sculpture)

A summary (either in writing or video) of what Love in Art means and has meant to you as a member of the LGBTQ community.
Submission formats: Images – JPG or PDF, 300 DPI, videos: MOV or MP4
No fee required to participate
Since its beginning in 2005, Art of Pride has offered a venue to local artists, providing a safe and welcoming environment to showcase their work within Pride events, including the annual San Diego Pride Festival.
Inquiries can be sent to: [email protected]
Learn more here: artofpride.weebly.com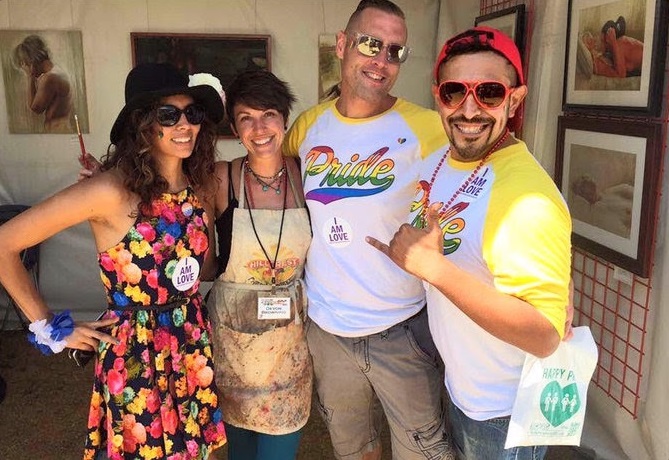 Pride Festival
Calling all LGBTQ artists! Have your art showcased at the Pride Festival. For more information please email [email protected]