Our Second Executive Director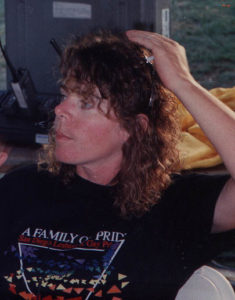 Barbra Blake came to San Diego Pride in a roundabout way which can only be described as serendipitous. In 1989, a friend of a friend encouraged her to go to her first volunteer meeting. One thing led to another and, by the time the meeting was over, Barbra found herself in the position of Medical Supervisor, on the basis of her background as a biologist at UCSD. "Which hardly qualified me," said Barbra, "But fortunately I had CPR training." Luckily, the most common concerns were easy to deal with, like dehydration and overindulgence.
Although she had a full-time job, Barbra took on more responsibility. She and close friend Maryanne Travaglione were in charge of the festival and the parade, and together
with Pride's first Executive Director, Tim Williams, they took on the bulk of the event planning. Having taken on a larger role in Pride than she initially intended, and juggling a full-time job at the same time, Barbra fondly recalls many late-night Friday margarita planning sessions with Tim and Maryanne.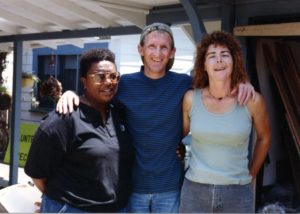 Eventually, Barbra found herself asked to take on even more responsibility when Tim Williams confided to her that he was HIV+ and that he had become symptomatic and intended to resign for his health. Tim informed the Board and a call was put out for a new Executive Director, but nobody applied for the job.
"There was a call out for a new director, he realized that he couldn't continue, and no one answered the call… no one wanted the job," Barbra recalled. "It didn't pay anything, and it was a lot of time and effort. So Timmy asked me one day, again over margaritas, would I consider taking the job on."
Initially skeptical, Barbra agreed to apply for the job after being reassured by Tim that he would help her transition into the position. "It was actually out of friendship, and a love for Tim, that I took it on," said Barbra. The decision was made even easier because she knew that she would still be able to depend on Maryanne, who Barbra credits as essentially a co-Executive Director.
Changes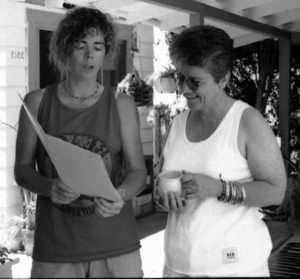 Pride went through a time of change and growth during her tenure. Changes were made to the parade and festival and the month that the event was held, so by the time she left, the event had morphed into what we recognize as Pride today.
The most obvious change was in 1991, when the event was moved from June to July. Previously, almost all Prides took place in June to coincide with the anniversary of the Stonewall Riots, but after a nearly rained-out event in 1990, San Diego's event was moved to July. The move not only guaranteed better weather, but it removed San Diego Pride from competition with other Southern California Prides, which resulted in a huge growth of out-of-town visitors.
The festival location, which had been in the parking lot of the old Naval Hospital for five years, was moved to the Marston Point, or "Fruit Loop," location that we are familiar with today. The change from the hot, cramped, paved parking lot, to the green, shady, and spacious Marston Point gave San Diego Pride what was arguably the best festival location of any Pride in Southern California.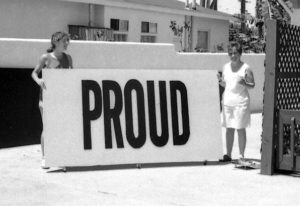 Other changes to the festival reflected changes and growth within the community. The Lesbian Health Tent was part of the festival for the first time and, in its first year, to some people's surprise, they even did Pap smears. Another new addition to the festival was The Children's Garden, reflecting the changing family dynamic as more LGBT couples started families.
The same year that the festival moved to Marston Point, the parade route was changed. For the first time, the LGBT Pride parade went through the Hillcrest "gayborhood" instead of marching from Downtown, or up and down Sixth Ave, as had been done in the past. This helped raise the visibility of the parade and encouraged increased participation from local businesses that saw the economic benefit to having the parade go past their storefronts.
Growth
The change from June to July, combined with the new parade route and the new location in Balboa Park, fueled San Diego Pride's growth. Suddenly, San Diego Pride was a destination event, attracting people from across the country. The growth
and influx of outside money was key to Pride becoming an economically profitable entity that could raise money and give back to the community.
Leaving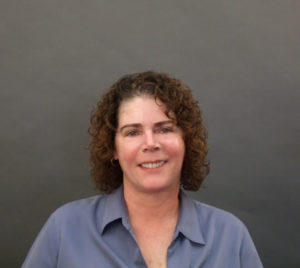 When she looks back at her time with Pride, Barbra feels a definite sense of accomplishment. When asked about her experiences, she gets a wistful look on her face and can't help but smile as she reflects on those days. She came to Pride just wanting to help a little bit, but ended up taking on more and more responsibilities, until she became Executive Director as a favor for the friend she knew as "Timmy."
The year after she became Executive Director of Pride, she became Executive Director of AIDS Walk, again as a favor for Tim Williams, who had also been that organization's Executive Director. Although she juggled both positions for a couple of years while holding down a full-time job at the same time, as both organizations grew, it eventually became too much for one person.
She left Pride in good hands so that she could continue with AIDS Walk. Since she had been doing HIV research, and also because of her association with her friend Tim, the issue of AIDS was very dear to her. "I had a real passion for AIDS activism as well, so I had to choose between the two," she explained. "I had to do one full time, so I chose to do AIDS Walk."