Stonewall Service – #BeTheGeneration
2016 Spirit of Stonewall Awardees
Every year, San Diego Pride accepts nominations from the community for the annual presentation of the Spirit of Stonewall Awards. The awards recognize individuals or groups who contribute significantly to the LGBT community through their leadership, activism, and/or fundraising efforts.
For a full list of our awardees, please click here.
Spirit of Stonewall Award – Stonewall Service
2016 Recipient: #BeTheGeneration
Awarded to a group or organization, which may or may not identify as lesbian, gay, bisexual, or transgender, but who has stalwartly supported the LGBT community over an extended period of years and/or has made an exceptional contribution in the past year.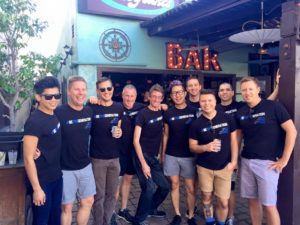 The San Diego LGBT Community Center launched the groundbreaking #BeTheGeneration campaign in October 2014 with the goal of ending new infections of HIV in San Diego County by 2024. In the short time since the campaign's launch, it has become a well-known brand around town, engaging community members to have conversations about the new hope in HIV, while decreasing the stigma and fear that prevent so many people from accessing testing, prevention tools, and treatment. Center staff members have infused #BeTheGeneration conversations into all of the agency's programs, and the outreach team has engaged over 100 community members who serve as ambassadors of the campaign, speaking about tools like PrEP (pre-exposure prophylaxis) – the once-daily pill that prevents HIV infection, and the importance of treatment to suppress the virus for those living with HIV. The Center has also trained a team of HIV test counselors who provide client-centered HIV test counseling, encouraging clients to be empowered to take care of their own health. #BeTheGeneration looks forward to seeing an end to new cases of HIV once and for all – and will keep working until the goal is reached.