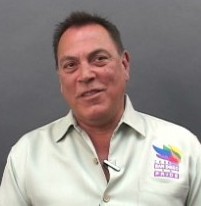 Dr. Philip Princetta has been a member of Pride's Board of Directors since 2002, and has been one of the two Co-Chairs since 2005. Prior to that, he had been a volunteer since 2000 after moving back to town after living in Atlanta, Georgia, for many years. Initially, Philip was the Rally Chair for his first two years on the Board. In 2005, he became Co-Chair of Pride, along with Anne Hewett, after many board members resigned following the scandal of 2005.
Changes
His first task upon becoming Co-Chair, along with Hewett, was to steer the organization through the turmoil surrounding the sex-offender scandal. The following year, San Diego Pride instituted background checks of every one of the hundreds of Pride volunteers each year. Pride was one of the first organizations to take this step, although many others later followed Pride's example.
Executive Director
Princetta and Hewett's next task was to find a new Executive Director, following the resignation of Suanne Pauley. After the candidates were vetted, the Board chose Ron deHarte for the position and he accepted.
Currently, Princetta is serving an extended term as Co-Chair, along with new Co-Chair January Riddle. He says that he has committed to continue to serve as Co-Chair until a new candidate for the position can be found.