Let Me Introduce You To… the Queer Future
Edward Estrada, San Diego LGBT Pride Youth Intern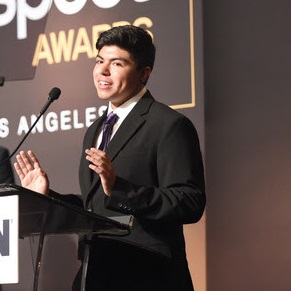 "I identify as Queer. I don't like to have to divide into LGBT? Queer is much more inclusive"
After meeting Edward (Eddie) Estrada, I can sleep well at night, knowing that the future of the LGBT movement will be in good hands. Eddie, a self-described Queer 16-year-old student at the San Diego School of Creative and Performing Arts (SDSCPA), has no problem claiming the word Queer. Although he does recognize that some in generations preceding him have had a difficult time with the word Queer, he believes that youth have reclaimed the word Queer as an umbrella term that is more inclusive and encompasses the whole LGBTQ+ world. -Bob Leyh, Volunteer Manager
Why do you volunteer with San Diego LGBT Pride?
I volunteer because if youth want a Youth Zone at the Pride Festival, then youth need to step up and plan the space. A Pride Youth Zone should be created by out, proud and queer youth.
What's your official Pride title and what does it mean?
My official title at Pride is Youth Intern. I not only help plan the Youth Zone for the Festival, but I am also involved with the Pride Lunch Bunch group. Lunch Bunch is a gathering of LGBTQ+ junior- and high-school-aged youth that meet the second Saturday of the month from 11am to 2pm at the Pride office. We get to hang out with other queer kids, eat lunch (provided by the Trevor Project; thank you Trevor Project!) and talk about things that are important to queer youth.
What are you reading right now?
Campaign Craft: The Strategies, Tactics, and Art of Campaign Management by Daniel M. Shea, Michael John Burton Jr and Robert E. Denton. "You see, I'm a bit of political junkie. I want to go to college, major in political science and then go into public service/politics."
Bob: Eddie interned last year for Congressman Scott Peters, and his personal political hero is Assembly member Todd Gloria.
When you aren't volunteering with Pride, where might we find you?
At the SDSCPA, where I am a junior studying Creative Writing—with an emphasis in creating queer characters in fiction, poetry and short plays.
You may also find me presiding at the SDSCPA's weekly GSA meeting—I am the club president.
Bob: I asked Eddie to confirm that GSA stands for Gay Straight Alliance, and he confirmed that while GSA was originally called Gay Straight Alliance, today GSA means Genders/Sexualities Alliance, a much less narrow and more inclusive organization.
You may also find me at GLSEN meetings, where I am a member of the San Diego GLSEN Board of Directors. GLSEN, which originally stood for the Gay, Lesbian, & Straight Education Network, is an organization founded in 1990 in the United States that seeks to end discrimination, harassment and bullying based on sexual orientation, gender identity and gender expression in K-12 schools.
You may also find me meeting monthly with the San Diego Unified School District Superintendent Cindy Marten, where I use my GSA and GLSEN experience to advocate for Queer Youth, safe schools and gender-inclusive restrooms.
Bob: For his efforts advocating for Queer Youth, GLSEN named Eddie the 2016/2017 National Student Advocate of the Year!
What's the last movie you saw (DVD or in the theatre)?
I'm a 16-year-old kid with no job; who has money for the movies? Though, if someone wanted to take me that would be nice.
Coffee or tea?
Coffee—definitely Starbucks coffee.
What's playing on your iPod?
I like alternative music. Right now I'm listening to Paramore.
What should people know about you?
I am passionate about advocating for Queer inclusiveness and Queer Youth. I want to create safe spaces for Queer Youth in schools and at the Pride Festival. I was born and raised in the Paradise Hills neighborhood of San Diego.
What's the best advice you have for someone coming to Pride?
Come with a friend, and make some new friends.
What are you looking forward to for Pride 2017?
I'm looking forward to an awesome Queer Youth Zone, designed, developed and created by Queer Youth for Queer Youth. I'm looking forward to celebrating Pride with Queer Youth from all over San Diego and Southern California.
---
Be Part of the Pride Family!

If you're interested in volunteering with San Diego Pride, we'd love to have you! Please follow the link below to learn more about how you can be involved in your community!