En Vogue and more come out to Pride San Diego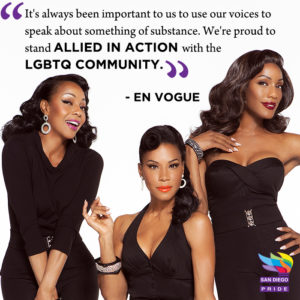 San Diego Pride is thrilled to announce that multi-platinum female music group, En Vogue, will be headlining at San Diego's Pride Festival this July!
En Vogue is recognized as one of the top 5 highest selling American female music groups of all time. For the last 2 decades, they've produced R&B and Pop hits like Hold On, Free Your Mind, Whatta Man featuring Salt N Pepa and their newest single, I'm Good.
"We are excited to perform at San Diego Pride this year! It's always been important to us to use our voices to speak about something of substance. We're proud to stand allied in action with the LGBTQ community." said En Vogue
"Our community volunteer lead team has been working diligently to put together a phenomenal Pride celebration that reflects the beautiful and authentic diversity of our community," said Fernando Lopez, Director of Operations for San Diego Pride. "We can't wait to announce the full spectrum of LGBTQIA artists who will be showcasing their incredible talents this year in San Diego's beautiful Balboa Park!"
Additional headlining artists include Hector Fonseca, Cazwell, Kodie Shane, Cakes Da Killa, Lucia Mendez, Jessica 6 featuring Nomi Ruiz, and Paris Sukomi Max. More top tier talent and a full entertainment line up will be announced in early June.
San Diego's Pride Festival will take place July 15 – 16, 2017 in Balboa Park, and will include over 90 acts across 4 different stages. In 2016 the Pride Festival had over 27,000 attendees from 464 cities, and 12 countries around the world. Pre-sale tickets for 2017 are already up 42% year-to-date.
For tickets and information about San Diego Pride visit www.sdpride.org