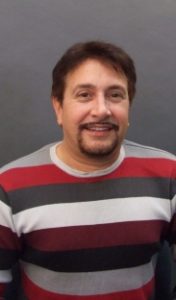 Frank Sabatini came to Pride in 1994 when the new Executive Director approached him about becoming Pride's Public Relations Coordinator. His job was twofold; he had to try to get coverage for the event in the media, and when the media approached Pride, he was in charge of working with the media to insure that a 30-second spot during the news would accurately portray Pride.
Cunanan
Sabatini's biggest moment in the spotlight was in 1997, during the Andrew Cunanan manhunt. Cunanan, a San Diego resident, had been on a cross-country killing spree for months and with Pride around the corner, people were wondering if he would return home to mix in with the crowd. The threat was evidently being taken seriously by law enforcement agencies, and that brought in the international press corps in droves. The demand for press interviews grew so great that Frank and Executive Director Mandy Schultz couldn't keep up. Instead they had to resort to frequent press conferences.
Cunanan was eventually found, only two days before Pride, in a boat in Florida, where he had been since shooting Gianni Versace. The media scrutiny finally subsided and Sabatini credits Mandy Schultz for holding up well under pressure in what was her first year as Executive Director.
Sex Offenders and Gay Bashers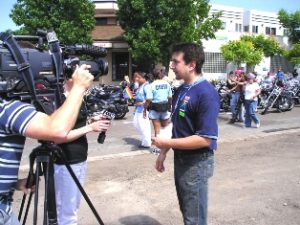 The other two years that stick out in his memory as being challenging for him were 2005 and 2006 during the sex-offender controversy and the gay bashings, respectively. Both required him to try to finesse coverage of the event but in entirely different ways.
The gay bashings in 2006 were particularly interesting in that, far from trying to discourage the media coverage, Pride wanted to encourage the media to focus on the attacks. The high-profile media coverage, combined with an intense expenditure of police department resources, contributed to the swift arrest of the suspects. The media was all over the attacks, and that was exactly what Pride wanted.