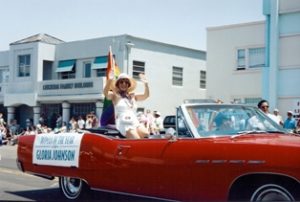 Since moving here in the 1960s to go to college, Gloria has called San Diego home. In that time, she has been an activist in the LGBT movement as well as the women's movement, and she has been an active member of the Democratic Party. When AIDS first began to devastate the gay community in the 1980s, she was one of the first social workers to work with people with AIDS.
Although she was never personally involved with the production of San Diego Pride, she has been one of San Diego Pride's most frequent Honorees. In addition to her Pride debut in '77, she was also Grand Marshal with Dr. Brad Truax in 1982. She was also honored by San Diego Pride as the Woman of the Year in 1987 and then again in 1996.
To this day, Gloria remains involved with the community and continues to be involved in the Democratic Party.