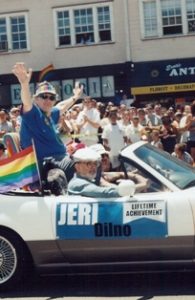 It's impossible to overstate the role that San Diego native Jeri Dilno has played in the history of the San Diego Pride movement. After graduating from Point Loma High School, she went on to attend San Diego State College and then entered the Air Force. By the early 1970s, she was living in Philadelphia, where she was an activist within the LGBT community and helped organize that city's first Pride march in 1972.
Her activist experience, and particularly her experience in organizing Pride marches in Philadelphia, came in handy when she returned to San Diego and, in her capacity as Executive Director at the Center, she helped organize the 1975 San Diego Pride march. The San Diego Union estimated that 400 people marched that day, which made it the biggest Pride event San Diego had seen up to that point.
She remained involved in the planning of the Pride events for the next few years and credits Anita Bryant (1977) and California State Senator John Briggs (1978) for really providing the community common enemies to rally against. The Briggs-sponsored Prop. 6 would have forbidden gays and lesbians from teaching in public schools, and Jeri participated in the "Save Our Teachers" campaign, which was also the group which organized that year's Pride events.
She wasn't directly involved in the planning of the annual Pride events again until 1986 when Lambda Pride canceled the festival due to lack of funds. Together with many other volunteers, she helped an ad-hoc group put together a festival in less than three weeks. She has vivid memories of sweeping the dirt parking lot in order to prepare the festival site.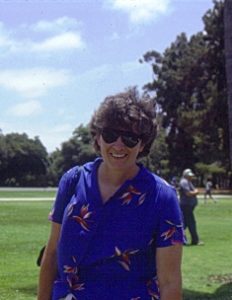 Her next involvement with Pride came in 1989 when she helped form the committee which planned the events commemorating the 20th anniversary of Stonewall. The 1989 Pride committee was a turning point for San Diego Pride and the beginning of an organization that would be financially sound and able to give back to the community. Jeri Dilno served on the Board of Directors from 1989-1994, and then again from 2000-2006.
Aside from her direct involvement with the annual Pride events, Jeri has been honored by Pride a number of times. She was the Grand Marshal of the Parade in 1984 and then again in 1989, and in 1999 she was the recipient of the Lifetime Achievement award for her years of service to the community and to Pride.