Community Service – Josh Coyne
2017 Spirit of Stonewall Awardees
Every year, San Diego Pride accepts nominations from the community for the annual presentation of the Spirit of Stonewall Awards. The awards recognize individuals or groups who contribute significantly to the LGBT community through their leadership, activism, and fundraising efforts.
Click here for a full list of our awardees.
Spirit of Stonewall Award – Community Service
An individual or couple who is recognized as an up-and-coming leader within the community or whose contribution to the community in the past year was of particular significance.
2017 Recipient – Josh Coyne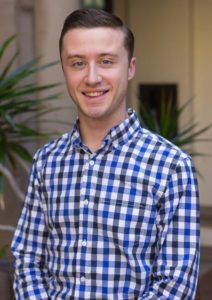 Josh Coyne currently serves as the Assistant Director for Associated Students at the University of San Diego Office of Student Leadership, Involvement and Changemaking. Josh's primary responsibilities include advising and supervising all operations of the student government.
For over four years, Josh has volunteered with The Trevor Project, the leading national organization that provides crisis intervention services and suicide prevention resources for LGBTQ youth ages 13 – 24. Every week, Josh volunteers as a digital crisis counselor supporting young people across the country who are feeling alone and are often thinking about suicide. In this role, Josh works to ensure they have access to the resources they deserve.
Additionally, he has served as co-chair of the San Diego chapter of The Trevor Project for the past two years. Josh leads a group of 10 volunteers who coordinate fundraising efforts and community outreach events in the greater San Diego area. As co-chair of the ambassador group, Josh ensures that the San Diego area is aware of the programs and services offered by the Trevor Project for LGBTQ young people.
Josh also serves as a Youth Programs Coordinator for San Diego LGBT Pride, where he coordinates monthly gatherings and programs for LGBTQ young people and their allies to connect with one another in a safe place.
Before moving to San Diego, Josh graduated with a Master of Science degree in College Student Personnel Administration from Canisius College and with a Bachelor of Arts degree in Political Science from Niagara University, both located in New York.
When practicing self-care, Josh enjoys a glass of wine, a magazine, and an occasional solo trip to the movie theater.