Let Me Introduce You To…
Larry Sanchez, Festival Front End Manager.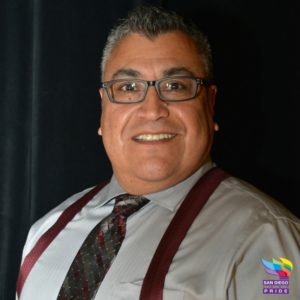 "I remember my first Pride. It was in San Diego in 1985. I felt like a kid in the candy shop, like I had just met my favorite movie star – Mark Hamill of Star Wars – and just won an all-expense paid trip to Disneyland. I knew I was home."
Larry began volunteering with San Diego Pride in 2005 as the beverage ticket sales Supervisor in the main beer garden. He has since volunteered as ticket sales Supervisor, ticket sales Coordinator, Front Gate Coordinator and has served for the past several years as the Festival Front End Manager. According to Larry, "the great thing about volunteering at San Diego Pride is the opportunity to meet and get to know so many wonderful people."
Why do you volunteer with San Diego LGBT Pride?
I remember my first Pride like it was just yesterday and I want to help others experience their first Pride. I remember the feeling of wonder and awe that I had and I want to ensure that feeling lives on. I love seeing the look on people's faces as they walk up to the festival. If I can help people coming to the festival feel the wonder and awe of Pride then my job is done.
What's your official Pride title and what does it mean?
My official Pride title is Festival Front End Manager and it means that I coordinate and supervise the volunteers who sell tickets at the main entrance to the festival. 
What are you reading right now?
For Common Things; Irony, Trust, and Commitment in America Today by Jedediah Purdy.
When you aren't volunteering with Pride, where might you be found?
Petco, I have to pay the bills and anywhere I can take my dog Boo, a spaniel mix.
What's the last movie you saw (DVD or in the theatre)?
A Dog's Purpose. Hello, I work at Petco.
What's the best advice you have for someone coming to Pride?
Avoid the lines, buy your festival tickets online.
Coffee or tea?
Coffee – Latte.
What's playing on your iPod?
Lady Gaga and Psy (the Gangnam Style guy).
What should people know about you?
I have a dry, very dry and dirty sense of humor.
What are you looking forward to for Pride 2017?
I look forward to Pride every year, but this year I'm looking for our community to come together under the banner of resistance and defiance. We can and should celebrate who we are, but we need to be ready to resist and defy. We need to be ready for the Rainbow Revolution.
---
Be Part of the Pride Family!

If you're interested in volunteering with San Diego Pride, we'd love to have you! Please follow the link below to learn more about how you can be involved in your community!