Live with San Diego Pride
Past Livestreams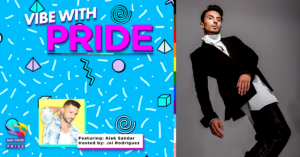 Join San Diego Pride for our series, Vibe with Pride, as we spotlight LGBTQ artists and promote visibility, equality, and empowerment. Hear directly from artists who are keeping the beat going during the pandemic.
For September, host Jai Rodriguez will be in discussion with Lyle Anthony!
Series proudly presented by Tito's Handmade Vodka.
Known for his collaborations with Juicy J, Andrea, Amanda Lepore, Desi Slava, Galin, Oscar Loya, and many more, Alek Sandar is a singer, songwriter, and producer based in New York City. Born in Bulgaria, Alek performed on TV and on the radio at the early age of five. He moved to Germany where he started composing and producing at the age of twelve. After moving to New York in 2009, Alek became part of the avant-garde club scene and worked as a DJ / performer of EDM and house music. In recent years, Alek has produced many commercial hits in Bulgaria, some of them winning music awards and top positions on the charts for weeks. Alek starred in the TV shows VIP Brother / Celebrity Big Brother in Bulgaria in 2016. His discography includes the radio singles, "Yerba", "Ride", "P.O.R.N.", "You and Me", and "Say That You Love Me".
Check Out the Vibes Here
LGBT Q&A: Join San Diego Pride as we invite LGBTQ leaders, activists, and community members to discuss their activism and issues important to the community.
2020
Vibe with Pride: A series that spotlights emerging LGBTQ artists whose stories promote visibility, equality, and empowerment.
2020 – 2021
Spirit of Stonewall Series: Hear from our annual Spirit of Stonewall Awardees about what drives their activism, leadership, and philanthropy.
2020