Live with San Diego Pride
Past Livestreams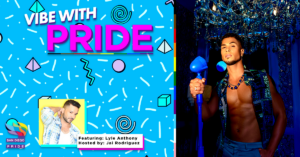 Join San Diego Pride for our series, Vibe with Pride, as we spotlight LGBTQ artists and promote visibility, equality, and empowerment. Hear directly from artists who are keeping the beat going during the pandemic.
For September, host Jai Rodriguez will be in discussion with Lyle Anthony!
Series proudly presented by Tito's Handmade Vodka.
International Popstar Winner and South African born singer and stage performer, Lyle Anthony, has been wowing crowds around the world. His most memorable performance was sharing the stage with Shakira and Black Eyed Peas at the 2010 FIFA World Cup South Africa in 2010. Lyles' live performances always turn the party and give your crowd the incredible vibe they crave.
Check Out the Vibes Here
LGBT Q&A: Join San Diego Pride as we invite LGBTQ leaders, activists, and community members to discuss their activism and issues important to the community.
2020
Vibe with Pride: A series that spotlights emerging LGBTQ artists whose stories promote visibility, equality, and empowerment.
2020
Spirit of Stonewall Series: Hear from our annual Spirit of Stonewall Awardees about what drives their activism, leadership, and philanthropy.
2020