Live with San Diego Pride
Past Livestreams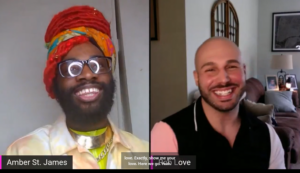 Join us for our series, Vibe with Pride, as we spotlight LGBTQ artists and promote visibility, equality, and empowerment. Hear directly from artists who are keeping the beat going!
For January, host Amber St. James is joined by singer/songwriter, Rob Love!

Rob Love was born and raised in New York. In his 20s, Rob began performing at local clubs throughout the tri-state area. "I feel like all the struggles I've been through and all that I've done is all part of the personal growth process".  Rob's passion for music became his escape from that difficult reality and the discrimination he faced as an LGBTQ+ artist. 
"Music and my support at home really saved my life," says Rob. He always felt music was where he needed to be but was never able to explore.
In 2019 he released his first single "Show Me Your Love" on April 17th, 2020. As an artist, Rob is committed to influencing and inspiring others through his music.

Follow Rob:
Follow host Amber St. James:
Check Out the Recording Here
LGBT Q&A: Join San Diego Pride as we invite LGBTQ leaders, activists, and community members to discuss their activism and issues important to the community.
2020
Vibe with Pride: A series that spotlights emerging LGBTQ artists whose stories promote visibility, equality, and empowerment.
2020 – 2021
Spirit of Stonewall Series: Hear from our annual Spirit of Stonewall Awardees about what drives their activism, leadership, and philanthropy.
2020