Lori Hensic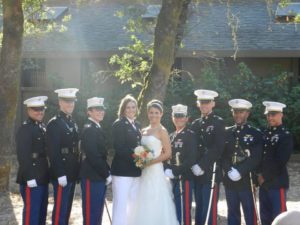 ORGANIZATION: The American Military Partner Association (AMPA)
NUMBER OF YEARS VOLUNTEERING FOR THE ORGANIZATION: ~2 (Director of Educational Affairs)
HOMETOWN: Sonoma, CA
SINGLE OR TAKEN: Married! My wife, a Captain in the US Marine Corps, and I were married at the first day we were legally able to while living in San Diego – July 1, 2013
HOW MANY YEARS HAVE YOU BEEN IN SAN DIEGO: ~2
WHY DO YOU VOLUNTEER FOR YOUR ORGANIZATION?
I first started volunteering for The American Military Partner Association (AMPA) as a way to give back to a community that was there for me when I had no one else to turn to. As a member of AMPA, the organization helped me get through challenging times as the same-sex partner of an active duty service member, particularly under Don't Ask Don't Tell (DADT). I definitely struggled navigating my way through "military life." This was further complicated by the fact that even after the repeal of DADT, there were little to no resources available due to prohibitive laws preventing me access to much needed support systems.
Finding and connecting with AMPA immediately provided a sense of relief; relief that I had a group of incredibly supportive service members and their partners that serve as an amazing nation-wide network for information, advocacy, and friendship. This incredibly rich family genuinely strives to assist and strengthen their community, as well as the military community overall. As a group, we have shared concerns from coping with maintaining a healthy relationship during deployments or PCS moves, to dependency status as it relates to having children, to how to best integrate military life within our own individual lives given the constraints and differences it poses for same-sex couples. It certainly helps my wife and I feel secure in knowing we have a network of knowledgeable and caring people who understand our concerns, and that we can fall back on them for support when we need it. During some of my most challenging times my AMPA family – my "fAMPAly" – was right there at my side whenever I needed them. Since then, I have been determined to give back to the organization that helped me so wholeheartedly in hopes that I can help someone else in return. I am proud to serve as the Director of Educational Affairs for the organization.
As part of the mission in connecting, supporting, honoring and serving the partners and spouses of America's LGBT service members and veterans, AMPA has a powerful ability to reach out to both the public as well as elected officials to educate them regarding inequalities faced by same-sex couples. It is vitally important to get the word out that the repeal of DADT and the fall of DOMA have been insufficient in providing full equality to our service members. Given its national representation, AMPA possesses great potential to effect real legislative change by serving as a voice for military members and their partners in our fight for equal rights. In my current role as the Director of Educational Affairs, I help communicate the challenges our LGBT military families face to members of Congress and high-level Defense Department officials so that they can enact policies that provide all service members with equal benefits.
WHAT IS YOUR FAVORITE VOLUNTEERING MEMORY?
One of my most favorite volunteering memories was when I was invited to speak on behalf of our LGBT military families at the 2013 National Military Spouse Summit. Defying all statistical odds, I was the only lesbian in a room full of hundreds of military spouses, and the first invited to participate and speak on behalf of our families after the repeal of Don't Ask Don't Tell. I remember being insanely nervous about whether or not I would be well received by the notoriously conservative crowd. The spouses may not have all supported my relationship with another woman, but they certainly supported my relationship with a service member. We all recognized that we had much more in common than initially thought. That moment gave me much hope for the future for our LGBT military families. We may still have a way to go before reaching full equality – but the support is indeed there, even in places I may have not anticipated.
WHAT MOTIVATES YOU TO DO THE WORK YOU DO?
The knowledge that not all families have the same legal protections from state to state while serving our nation. Indeed LGBT service members, their families, and their unwavering commitment to this country despite the challenges they face continue to remain my strongest motivation.
WHAT IS SOMETHING MANY PEOPLE DO NOT KNOW ABOUT YOU?
I spent a summer working in South Sudan training the first generation of South Sudanese physicians at University of Juba, College of Medicine. That, and I really, REALLY love corndogs.
WHAT DO YOU LIKE MOST ABOUT THE LOCAL LGBT COMMUNITY?
The energy – ours is a vibrant community full of folks who are heavily involved at a local level.
WHAT WOULD YOU LIKE TO SEE CHANGE IN THE LGBT COMMUNITY?
Increased connections across the generations. This would likely require a greater number of community events that are family friendly and applicable to all ages. But there is so much to benefit from by learning from those who came before us, as well as from those who will continue to move us forward into progress as a community.
WHAT SORTS OF THINGS DO YOU DO TO ENRICH YOUR SOCIAL LIFE OTHER THAN VOLUNTEERING?
Travel, travel, travel. Sports, great conversations with friends over a local brew, walking my dog within the neighborhood, and evenings at home catching up with my beautiful wife.
IF YOU COULD HOST A DINNER PARTY AND INVITE THREE PEOPLE (DEAD OR ALIVE), WHO WOULD THEY BE AND WHY?
Edith Windsor – because she's a BOSS, a wonderful leader in our LGBT community, and helped people really SEE what true love looks like.
Gloria Steinam – because she's a BOSS, a strong and unapologetic woman who is intelligent and sassy.
Abraham Lincoln – because he was a BOSS, had a great beard, and stood up for what was right even when it was difficult.