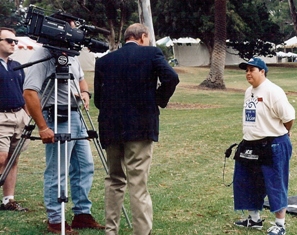 Mandy Schultz's involvement in Pride began in the early '90s as a volunteer and then as the Festival Coordinator. She worked her way up and gained experience until 1997, when Executive Director Brenda Schumacher retired and Mandy became Pride's fourth and youngest Executive Director while still in her late 20s. Friends described her as outgoing, vivacious and full of energy, traits that served her well as she saw Pride through some difficult times.
Her first year at the helm in 1997 was a trial by fire as the organization experienced one of its most chaotic years. Spree killer, and local San Diegan, Andrew Cunanan, had been on a cross-country killing spree and was being hunted by the FBI. Media scrutiny intensified when Cunanan murdered gay fashion icon Gianni Versace only ten days before Pride and rumors began to circulate that Cunanan would return to San Diego to attend the Pride festivities.
Although outgoing in many ways, Mandy was shy in other respects. She told Media Coordinator Frank Sabatini that the one thing she didn't  want to have to do was media interviews. Unfortunately, with the deluge of press requests stemming from the Cunanan manhunt, it wasn't possible for her to stay out of the media spotlight. She and Sabatini were unable to keep up with the demands for interviews and began to resort to mass press conferences.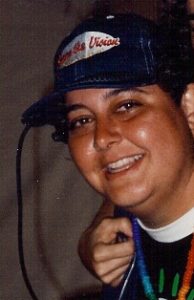 Two days before the start of San Diego Pride, Cunanan was found dead in Florida of a self inflicted gunshot wound. The problem was defused, and by the end of the crisis, Schultz was "well tempered," according to Sabatini.
The next big crisis for Mandy took place two years later at the parade as someone set off a tear gas canister near the intersection of Tenth and University. The attack created chaos and fear as people fled from the source of the noxious fumes. When the fumes subsided, it was decided to continue with the parade and there were no further attacks. Afterwards, Mandy worked with the police in their investigation into the incident, but no arrests were ever made.
Mandy had a significant impact on the organization during her tenure as Executive Director. Under her leadership, Pride reached out to the bisexual and transgender communities, including them in the Spirit of Stonewall Rally. She also weathered turbulent times during the Cunanan manhunt and the tear gas attack. She stepped down after 1999 but remained involved in the community.
Mandy Schultz went missing in September of 2001. Her disappearance was a cause of concern to many of the people in the community whose lives she had touched. Her body was found five weeks later in her vehicle outside San Diego.