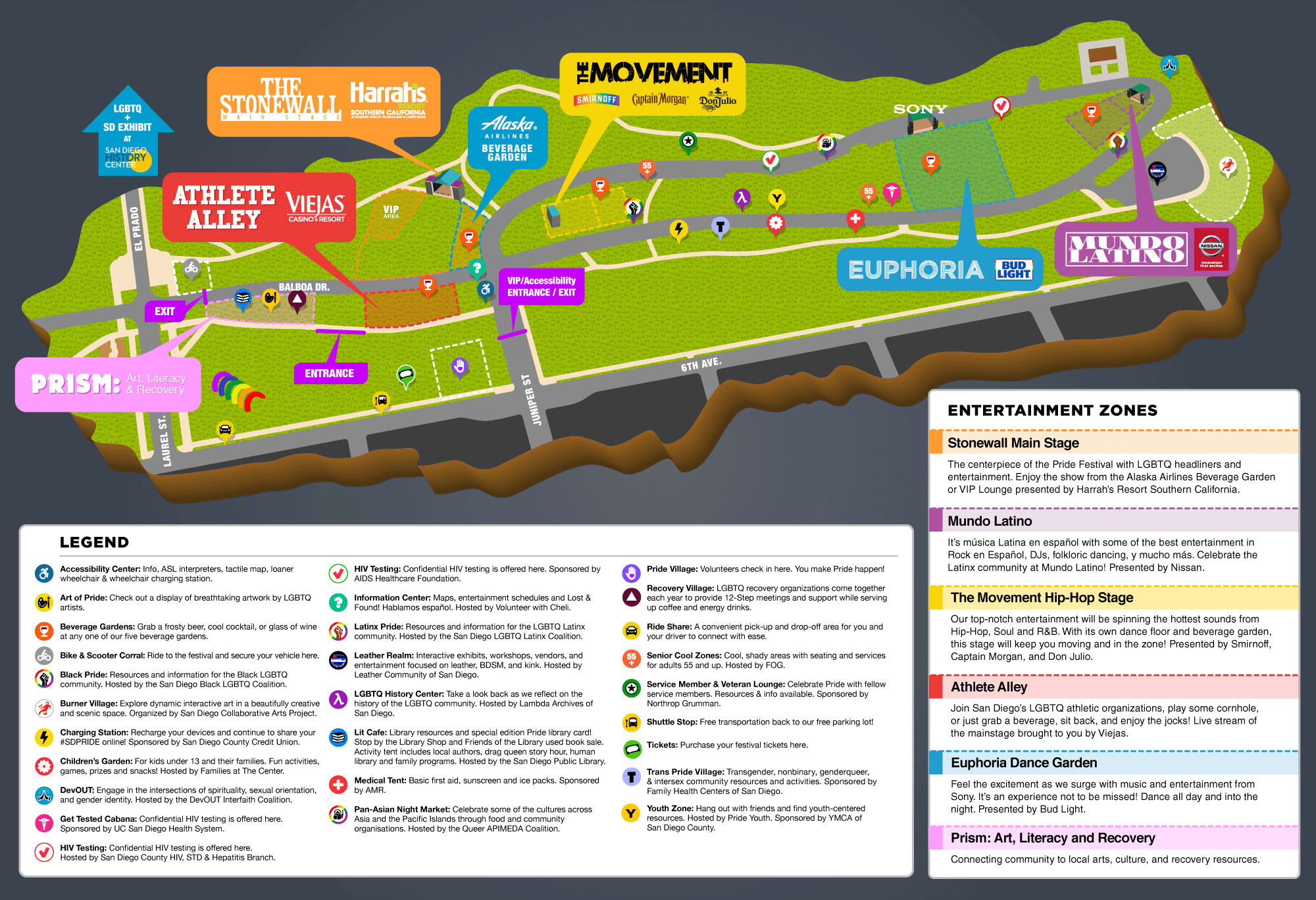 Accessibility Center:Info, ASL interpreters, tactile map, loaner wheelchairs, & wheelchair charging station.
Art of Pride:Check out a display of breathtaking artwork by LGBTQ artists.
Beverage Gardens:Grab a frosty beer, cool cocktail, or glass of wine at any one of our five beverage gardens.
Bike Corral: Ride to the festival and secure your vehicle here.
Black Pride: Resources and information for the Black LGBTQ community. Hosted by the San Diego Black LGBTQ Coalition.
Burner Village: Escape and explore dynamic interactive art in a beautifully creative and scenic space. Organized by San Diego Collaborative Arts Project.
Charging Station: Recharge your devices and continue to share your #SDPRIDE online! Sponsored by San Diego County Credit Union.
Children's Garden: For kids under 13 and their families. Celebrate Pride with fun activities, carnival games, prizes and snacks! Hosted by Families at The Center.
DevOUT Interfaith Village: Need a space to breathe? Looking for a listening ear? Visit the Interfaith Village where there is space for prayer and meditation, free pastoral counseling, and inspirational talks from members of various LGBT+ affirming faith communities around San Diego. Hosted by the DevOUT Interfaith Coalition.
Get Tested Cabana: Confidential HIV testing is offered here. Sponsored by UC San Diego Health System.
HIV Testing:Confidential HIV testing is offered here. Hosted by San Diego County HIV, STD & Hepatitis Branch.
HIV Testing: Confidential HIV testing is offered here. Sponsored by AIDS Healthcare Foundation.
Information Center: Questions? Ask us! Hablamos español. Official Pride merchandise, maps, schedules, lost & found. Hosted by Volunteer with Cheli.
Latinx Pride: Resources and information for the LGBTQ Latinx community. Hosted by the San Diego LGBTQ Latinx Coalition.
Leather Realm: Interactive exhibits, workshops, vendors, and entertainment focused on leather, BDSM, and kink. Hosted by Leather Community of San Diego.
LGBTQ History Center:Take a look back as we reflect on the history of the LGBTQ community. Hosted by Lambda Archives of San Diego.
Lit Café: Library resources and special edition Pride library card! Stop by the Library Shop and Friends of the Library used book sale. Activity tent includes local authors, drag queen story hour, human library and family programs. Hosted by the San Diego Public Library.
Medical Tent: Basic first aid, sunscreen and ice packs. Sponsored by AMR.
Pan-Asian Night Market: Celebrate some of the cultures across Asia and the Pacific Islands through food and community organisations. Hosted by the Queer APIMEDA Coalition.
Pride Village: Volunteers check in here. You make Pride happen!
Recovery Village: LGBTQ recovery organizations come together each year to provide 12-Step meetings and support while serving up coffee and energy drinks. Hosted by the Live and Let Live Alano Club.
Ride Share: A convenient pick-up and drop-off area for you and your driver to connect with ease.
Senior Cool Zones: Cool, shady areas with seating and services for adults 55 and up. Hosted by FOG.
Service Member & Veteran Lounge: Relax and celebrate Pride with fellow service members. Resources and information available. Sponsored by Northrop Grumman.
Shuttle Stop: Free transportation back to our free parking lot!
Tickets: Purchase your festival tickets here.
Trans Pride Village: Transgender, nonbinary, genderqueer, and intersex community resources and activities. Hosted and sponsored by Family Health Centers of San Diego.
Youth Zone: The hub for LGBTQ+ youth! Hang out with friends, make new connections, and find youth-centered resources. Sponsored by YMCA of San Diego County.
ENTERTAINMENT ZONES
Stonewall Main Stage: The centerpiece of the Pride Festival with LGBTQ headliners and entertainment. Enjoy the show from the Alaska Airlines Beverage Garden or VIP Lounge presented by Harrah's Resort Southern California.
Mundo Latino: It's música Latina en español with some of the best entertainment in Rock en Español, DJs, folkloric dancing, y mucho más. Celebrate the Latinx community at Mundo Latino! Presented by Nissan.
The Movement Hip-Hop Stage: Our top-notch entertainment will be spinning the hottest sounds from Hip-Hop, Soul and R&B. With its own dance floor and beverage garden, this stage will keep you moving and in the zone! Presented by Smirnoff, Captain Morgan, and Don Julio.
Athlete Alley: Join San Diego's LGBTQ athletic organizations, play some cornhole, or just grab a beverage, sit back, and enjoy the jocks! Live stream of the mainstage brought to you by Viejas.
Euphoria Dance Garden: Feel the excitement as we surge with music and entertainment from Sony. It's an experience not to be missed! Dance all day and into the night. Presented by Bud Light.
Prism: Art, Literacy and Recovery: Connecting community to local arts, culture, and recovery resources.