Stonewall Philanthropy Award – MARYAH
2016 Spirit of Stonewall Awardees
Every year, San Diego Pride accepts nominations from the community for the annual presentation of the Spirit of Stonewall Awards. The awards recognize individuals or groups who contribute significantly to the LGBT community through their leadership, activism, and/or fundraising efforts.
For a full list of our awardees, please click here.
Spirit of Stonewall Award – Stonewall Philanthropy Award
2016 Recipient – MARYAH (Metro Area Real Estate Professionals for Young Adult Housing)
Awarded to a group or organization, which may or may not identify as lesbian, gay, bisexual, or transgender, but who has diligently raised funds to support the LGBT community over an extended period of years and/or has made an exceptional contribution in the past year.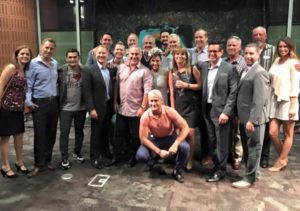 MARYAH (Metro Area Real Estate Professionals for Young Adult Housing) is a group of local professionals in the LGBT and Allied communities. For the past 11 years, MARYAH has been fundraising for the Sunburst Youth Housing Project – a program of the San Diego LGBT Community Center that provides safe and supportive housing for San Diego's homeless youth, including LGBT and HIV-positive youth.
MARYAH's dedicated board of directors, comprised of more than 20 hardworking real estate professionals, produce three fundraising events throughout the year. Their signature David Yoder memorial Casino Royale and Poker Tournament, Summer Solstice and Harvest Howl have not only proved you can put the "fun" in fundraising but also shown how well a professional community can work together to make a difference. The members of MARYAH have raised hundreds of thousands of dollars to help the Sunburst Youth Housing Project and are changing the lives of our youth.
Thank you to all of the past and present MARYAH board members and to every person who has attended one of their events over the past 11 years.