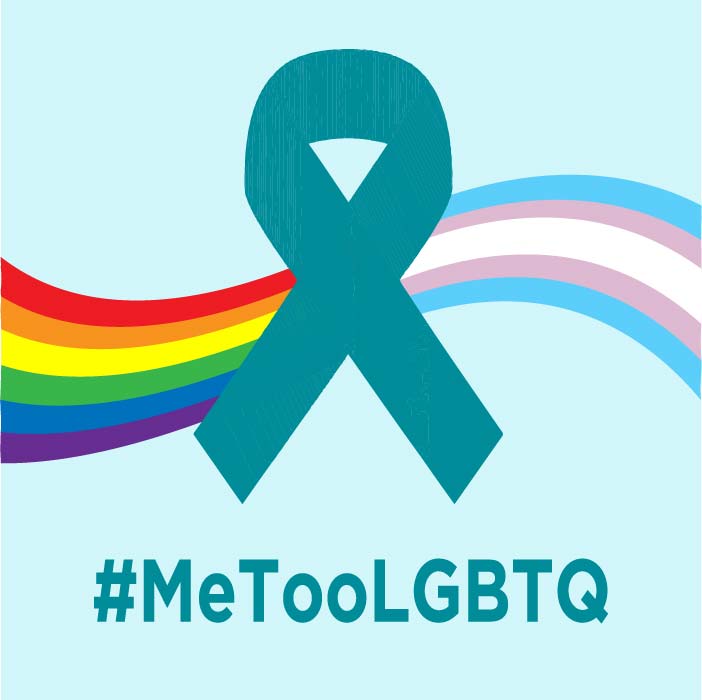 MeTooLGBTQ Virtual Conference 2020: Queer Resilience is Resistance
When: Thursday, October 15 – Saturday, October 17, 2020
Where: Online
The goal of the #MeTooLGBTQ conference is to increase culturally competent services for victims/survivors of sexual violence and relationship violence that identify as lesbian, gay, bisexual, transgender, or queer and to create space for LGBTQ+ survivors to connect with each other and community resources. This three-day conference is the only conference of its kind in the country outside of higher education settings, and is the first step in a long-term solution, aiming to bridge the gaps between the LGBTQIA+ communities and spaces of healing and care for sexual violence and relationship violence.
Nationwide, approximately 4 out of 10 gay men (40.2%) and half of bisexual men (47.4%) have experienced sexual violence besides rape at some point in their lives, compared to 1 in 5 heterosexual men (20.8%). A large majority (61%) of bisexual women and 44% of lesbians have experienced rape, physical violence, or stalking by an intimate partner, compared to 35% of heterosexual women. 47% of our transgender siblings experience sexual assault in their lifetime, and the American Academy of Pediatrics has identified gender nonconformity as a risk factor for childhood sexual abuse or rape.
This year's theme focuses on resiliency and thriving, centering intersectional identities and approaches. The 2020 conference will filter its content through the dual lenses of anti-racism/racial justice and working with trauma during a pandemic.
Due to the ongoing pandemic, the 2020 conference has been shifted to a virtual platform (Zoom) and will be held across three consecutive days. See below for the conference structure.
Register
Call for Submissions: Survivor Videos
New this year, we are soliciting short video clips (between 30 seconds and 2 minutes) from LGBTQ+ survivors. These may be used on social media prior to or after the conference or included in a compilation of clips from LGBTQ+ survivors to be played on the first day of the Conference (October 15th, 2020).
Soliciting a variety of clips from LGBTQ+ survivors will allow us to show and represent the wide diversity of experiences and identities of LGBTQ+ survivors, creating deeper empathy and understanding from providers and a greater sense of community and belonging for survivors.
Submit Your Video
Thursday, October 15, 2020 / General Audiences
*Youth Track* Welcome
Time: 9:30am-10:00am
Presenters: Sabrina Van Zuiden and Fin Burgess
Description: Warm welcome, introductions of Youth Track Leads and crisis-intervention volunteers, and introductions of youth track attendees.
Welcome
Time:10:00-10:15am
Presenters: MeTooLGBTQ Coordinating Committee
Description: Welcome from the MeTooLGBTQ Coordinating Committee, In memoriam: Christopher Sheehan (founding member of LGBTQ Survivor Task Force), Virtual Performance from San Diego Women's Chorus
State of the Issue
Time: 10:15-10:45am
Speaker: Kathleen Thomas & Jen LaBarbera
Description: Since Tarana Burke started the Me Too movement in 2006, and even since the #MeToo hashtag went viral in 2017, the world has shifted. This conference was founded in an attempt to ensure that LGBTQ+ survivors had a place in the narrative – in the stories told from survivor to survivor and in the services sought by LGBTQ+ survivors. In this year of global pandemic, social upheaval, a turning tide in the long reckoning of white supremacy and anti-Black racism, a questioning of the status quo in so many different areas of life, what does #MeTooLGBTQ mean? Are we seeing a turning of the tide? Where have we witnessed growth? Where do we still need to go? The State of the Issue will set the stage for the 2020 virtual conference.
Keynote Speaker
Time: 10:45am-11:15am
Speaker: To Be Announced – Keynote speaker has been confirmed and will be announced on Wednesday, September 23rd! Stay tuned for the reveal!
Plenary Panel: Artivism: Connecting Art to Activism & Healing
Time: 11:45am-12:45pm
Moderator: K (Kathleen) Thomas (they/she)
Panelists: Cameo Adele (she/they), Jax Spurgeon (he/him), Erik Benson (he/him), Robyn Alcantar (he/they)
Description: This panel will explore the intersections between healing from sexual/relationship trauma and utilizing art to advocacy for community change and personal empowerment. Panelists represent a wide range of art expression including, traditional mediums like painting or song, as well as queer-specific expression like drag and ballroom culture. We will be centering the experiences of QT BIPOC community members.
Youth Track* Debrief and Closing
Time: 12:45-1:00pm
Presenters: Sabrina Van Zuiden and Fin Burgess
Description: Debrief and closing circle for youth track attendees.
Friday, October 16, 2020 / Providers & Students
Plenary Panel: Supporting Queer & Trans BIPOC Survivors: Anti-Racist Considerations for Care
Time: 12:00pm-1:30pm
Moderator: Jessica Williams, PhD (she/her)
Panelists: Reverend Adam Dyer (he/him), Nora Alwah MA LPC (she/her), Victoria Pickering (she/her)
Description: This panel will explore the intersections of sexual/relationship trauma with historical and systemic racism within the mental health field and other areas of professional support. Panelists will discuss experiences of exploring and working to dismantle racial biases within their own practice and selves. A facilitated discussion will explore how LGBTQ+ community members with BIPOC identities experience sexual/relationship trauma in unique ways. Panelists will also discuss practical steps providers can take to explore personal biases and their impact of queer survivors within BIPOC communities.
Providing LGBTQ Affirmative Mental Health Care for Survivors: Interventions and Best Practices
Time: 2:00pm-3:30pm
Presenter: Tasha Colin
Description: This workshop will provide an overview of the importance of LGBTQ affirmative practices in mental health care for survivors of sexual assault and domestic violence. It will also address various interventions, treatment approaches and best practices from a trauma informed lens that promote resiliency building and provides different ways in facilitating the process of healing.
Envisioning New Worlds: QT Arts Practice as Intervention within the Movement to End Sexual Assault
Time: 2:00pm-3:30pm
Presenter: Jadelynn St Dre
Description: Choreographies of Disclosure: What the Mind Forgets is a socially engaged, long-form project, organized and curated by performance artist Jadelynn St Dre in collaboration with LGBTQ multidisciplinary artists, predominantly people of color, who have been impacted by sexual violence. The project seeks to create tangible, visionary spaces which incite dialogues surrounding the impact of sexual violence as it intersects with queer and trans identities, reflecting LGBTQIA+ assault survivor's stories in a different way: through the ways our bodies speak when our words are not enough. In this session, St Dre will present documentation of the project's premiere residency at Pro Arts Gallery, which occurred in January of 2019. Together, participants will discuss the methodology of this collaborative work, exploring the intersections of art practice, transformative healing intervention and community direct action. Participants will be invited to contribute to the work's growing archive of LGBTQIA+ resistance and resilience, which centers queer and trans visions of a world without the ever-present threat of sexual assault – a world in which LGBTQIA+ communities are the architects of their own healing and liberation.
Saturday, October 17, 2020 / Survivors and Youth
Mirror Memoirs: LGBTQI+ Child Sexual Abuse Survivors Ending Rape Culture
Time: 10am-11:30am
Presenters: Ducky Jones (they/them/theirs), Jaden Fields (he/him)
Description: In this workshop, core members Jaden and Ducky will present Mirror Memoirs, a national storytelling and organizing project intervening in rape culture by uplifting the narratives, healing and leadership of LGBTQI+ people of color who survived child sexual abuse. Our initial audio archive contains 58 stories across 15 states. Participants will engage in dialogue about the epidemic nature of this violence, share strategies for intervention and prevention, hear an audio clip from our archive, and share visions of a world without child sexual abuse. This is a closed space for folks who are LGBTQI+ AND Black, Indigenous, and/or people of color AND who survived sexual violence before age 18. Participants will NOT be hearing or sharing details of any violence they've experienced. Rather, the focus is on healing together and strategizing about how to alchemize our survival and resilience into wisdom that can guide all movements for collective liberation.
Deconstructing Gender and Mental Health: Trans and Non Binary Identities
Time: 10am-11:30am
Presenter: Van Ethan Levy (they/them)
Description: Gender is a societal construct that can be toxic and can have negative emotional, physical, and/or psychological impact on people, especially those whose identity(ies) fall outside of what has been constructed and labeled as "normal". Trans/nonbinary/non-conforming and/or more identities, specifically folx of color and more specifically Black folx who hold multiple identities that have been othered are overly misdiagnosed with mental health issues due to lack of cultural competency. In this presentation, we will deconstruct gender constructs through a trauma informed lens, to create safer spaces for folx whose identity(ies) are outside these constructs and/or for people are exploring ones identity(ies), while learning how to identify and eradicate our own internalized biases.
Self-Love, Self-Touch: Rediscover Your Body Through Dance
Time: 12pm-1:00pm
Presenter: Elizabeth Wong (she/her/hers)
Description: The workshop is proposed because trauma disrupts our body-mind-soul connection, and regaining a healthy, loving connection with your body takes time, support, and sometimes, a creative route. Here, I'm interested in meeting participants where you're at, and gently introducing new ways to thinking about your body and guide you through lyrical and sensual movements in a safe, judgement-free space. The hope is to provide room to attend and rediscover the contours of your body and sensuality that's structured, yet self-paced. Some survivors express difficulties with sex, sensuality, and self-touch after trauma. Dance is one way for participants to rediscover their sensual and physical selves in ways that can affirm their strength, resilience, creativity, beauty, sensuality, and expression, in a supportive, body-positive environment.
Conscious Communication: The Language of Feelings
Time: 12pm-1:00pm
Presenter: Rise Diamond (she/they)
Description: Self-expression is a healing tool that cultivates resilience and sustains resistance. As survivors, language for self-expression can be difficult to harness. This interactive workshop engages verbal and nonverbal self-expression by exploring the most effective body language and vocabularies available to convey complex feelings.
Saturday, Oct 17th - YOUTH TRACK
Youth Track Welcome
Time: 10:00 AM
Presenters: Sabrina Van Zuiden and Fin Burgess
Description: Warm welcome, introductions of Youth Track Leads and crisis-intervention volunteers, and introductions of youth track attendees.
"Why is My Brain Doing That?" Tips for Understanding and Managing Trauma Responses
Time: 10:15am-11:45am
Presenters: Sabrina Van Zuiden, Sarah Diamond
Description: In this workshop, we will use the Trauma Resource Institute's Community Resilience Model® to explore the topic of trauma and its effects on the body. Participants will gain a basic understanding of how the brain and body react during moments of trauma and triggers. Additionally, participants will engage with three skills to help manage trauma responses and grow capacity for resilience.
Break / Optional Lunch Together
Art and Resilience: How to Create to Help Reduce Stress
Time: 12:15pm-1:15pm
Presenters: Gini Mann-Deibert
Description: In this session, we will be creating art to build resilience. First, we will discuss creative strategies that can help reduce stress. Then we will practice drawing exercises to calm our minds and bodies when we are overwhelmed by stress. The goal of the session is to provide you with a few useful ways to incorporate art into a routine of self-care and  mitigate the impact of negative stressors. You do not need any special artistic skills. Bring any of your favorite art supplies and a few sheets of paper.
Registration
Registration is open to service/healthcare providers* and students who are invested in better serving LGBTQ+ survivors, as well as victims/survivors of sexual violence and community members that are invested in healing, community, and ending sexual violence and relationship violence. New this year, we are adding a youth track for attendees aged 13-18. Workshop tracks will allow attendees to participate in interactive pieces of training and presentations, hear directly from LGBTQ+ survivors of sexual violence and relationship violence, and receive valuable resources.
Registration provides access to the Zoom information and any digital conference material.
*Service or healthcare providers includes but is not limited to: mental health providers, clinicians, medical providers, survivor service providers, clergy, youth-serving professionals, and other front-line providers.
Registration Types and Fees:
Providers:  
Thursday, Oct 15: $20,

includes 1.0 CE credit

Friday, Oct 16: $50,

includes 3.0 CE credits

Saturday, Oct 17: Sliding scale, $0 – $50
Full and partial scholarships are available 
Students (higher education):  
Thursday, Oct 15: $10

Friday, Oct 16: $10

Saturday, Oct 17: Sliding scale, $0 – $50
Full and partial scholarships are available
Community Members/Survivors:  
Thursday, Oct 15: Sliding scale, $0 – $50

Saturday, Oct 17: Sliding scale, $0 – $50
Youth: 
Thursday, Oct 15: FREE

Saturday, Oct 17: FREE
Course meets the qualifications for 4.0 total hours of continuing education credit for LMFT's, LCSW's, LPCC's and LEP's as required by the California Board of Behavioral Sciences. CEs are provided by North County Lifeline at no cost. North County Lifeline (Provider #129488) is approved by the California Association of Marriage and Family Therapists to sponsor continuing education for LMFTs, LCSWs, LPCCs, and LEPs. North County Lifeline maintains responsibility for this program/course and its content.
MeTooLGBTQ 2020 - Youth Track
Youth ages 13-18 are welcome to join us this year for our first-ever Youth Track. This track will be led by crisis-intervention-trained prevention educators, social work professionals, and youth leaders, and will offer an opportunity for LGBTQ+ and allied youth to engage with this topic and these issues in a safe, contained environment. 
Youth attendees will meet up with our Youth Track leaders before the conference begins on Thursday, October 15th, join the main sessions, and reconvene with each other to debrief. On Saturday, October 17th, youth will join a youth-only space, led by trained professionals and youth leaders, to develop tools for resilience and healing. Crisis intervention trained volunteers will be on-hand at all times to connect one-on-one with youth if needed. 
If you have any questions, please email [email protected] and a Youth Track coordinator will be happy to connect with you. 
Register
ACCESSIBILITY
American Sign Language (ASL) interpretation services have been confirmed for this event. Additional accessibility accommodations, including English transcription, and visual content description services can be arranged for this virtual event with advance notice. We will provide ASL interpretation and English transcription through an online portal. Access to these services requires a computer and internet connection. To make an access needs request or to request additional information about the ASL accessibility at this event, please email [email protected] at least two days prior to the event.
INFORMACIÓN SOBRE SERVICIOS DE INTERPRETACIÓN
Servicios de traducción en español/inglés pueden ser proporcionados con aviso previo para este evento virtual. Los servicios de traducción se proporcionarán en línea, y requiere tener acceso a una computadora y conexión a internet. Para pedir servicios de traducción o para solicitar más información, envíe un correo electrónico a [email protected] al menos dos semanas antes del evento.