San Diego Pride Launches Local Small-Business Sponsor Initiative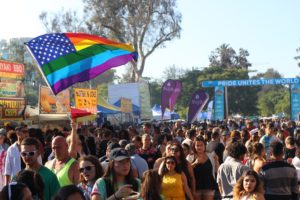 San Diego LGBT Pride is pleased to announce a new opportunity for local San Diego-based small businesses to sponsor the 2018 San Diego Pride Celebration, July 13-15, 2018, at a reduced price of $1,500.
This new $1,500 sponsorship opportunity will include an array of benefits, including main stage LED recognition, company name listing on official San Diego Pride 2018 event poster, logo recognition within music festival grounds, 2 weekend festival passes, as well as additional online marketing and promotional opportunities through San Diego Pride's social media channels, which reach a combined 1.9 million people.
For a comprehensive list of sponsor benefits, click here or contact San Diego Pride Director of Development Chance McKee at [email protected]
"San Diego Pride has been, and will always be, a philanthropic organization that celebrates giving back to LGBTQ-serving nonprofits," said Fernando Lopez, Executive Director of San Diego Pride. "In 2018, as we prepare for what could be San Diego's largest Pride Celebration in history, we are focused on returning to our roots by working with local businesses to highlight what makes San Diego one of the most LGBTQ-friendly cities in the world."
The San Diego Pride Celebration weekend is the largest civic event in San Diego and serves a 365-day operation focusing on serving LGBTQ women, international relations, and creating inclusive opportunities for LGBTQ youth to celebrate their individuality, while developing them into the future leaders of San Diego and beyond.
"Local business support of San Diego Pride 2018 will allow us to expand our LGBTQ youth- and senior-serving programs to reach a broader audience, while also highlighting how supportive local businesses are of San Diego's LGBTQ community," said Phyllis Jackson, Co-Chair of San Diego LGBT Pride's Board of Directors.
Founded in 1974, San Diego LGBT Pride produced the first Lesbian and Gay Parade in San Diego to celebrate the 1969 Stonewall Rebellion in New York. What started out as an all-volunteer-led organization, San Diego LGBT Pride has now grown to be an internationally recognized destination event and is the fourth largest Pride celebration in the United States, reaching more than 230,000 parade spectators and more than 40,000 music festival attendees in 2017.
"We are focused on making San Diego Pride a celebration for all San Diegans," said Nick Serrano, Co-Chair of San Diego LGBT Pride's Board of Directors. "That's why I hope local small businesses will take advantage of this opportunity to choose San Diego Pride 2018 as the best investment to expand their company's local presence while standing boldly with the LGBTQ community as a partner in equality and inclusion."