See Our PRIDE!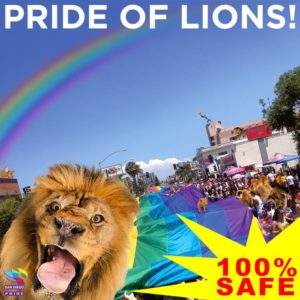 San Diego Pride is looking to take things very literally this year which is why we're honored to show our Pride – of lions!
On July 14, a pride of lions will lead the San Diego Pride Parade as our grand marshals. They'll be catwalking their way down University Avenue where parade attendees can snap pictures of their favorite felines. It's 100% safe!
That's not all! Join our Pride at the Spirit of Stonewall Rally on July 13 where they'll lead us in the first annual Pride roar off! Clear your throats and join them so everyone hears our Pride! We want to hear you roar San Diego!
But wait, there's more! Our big cat dance troupe, Kings of the Jungle, will be making their US debut at the Pride Festival. See them pounce to the beat on the manestage! Don't paws and miss out! A limited amount of meet & greets are available. Meet and greets start at $500 and include entrance into our VIP cat cafe where you can rub their bellies, feed them catnip, and take your selfies! We're not lion when we say we're the only Pride that's doing this!
So get ready to Purrrrrsist with Pride! Literally!
Disclaimer: Attendees are encouraged to leave all raw meat, antelope, and zebra at home this year.